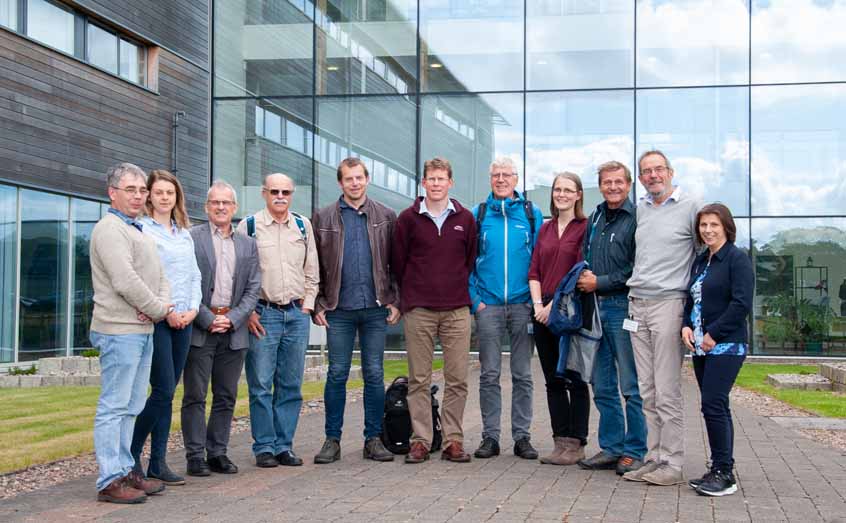 A 40-year relationship between SAMS and a Norwegian marine consultancy and research company was further strengthened on Friday, June 14 when the Nordic delegation paid a visit to Dunstaffnage.
The group from Akvaplan–niva gave a presentation on their own work in the marine environment and learned about the research carried out at SAMS (formerly known as Dunstaffnage Marine Laboratory).
Among the Norwegian party were the company's founder Prof Stig Falk-Petersen, who first came to SAMS as a visiting student in 1979, and company director Salve Dahle, whose first experience of Oban was on honeymoon in 1975.
Also in attendance was Dr Sabine Cochrane, a senior scientist with Akvaplan–niva who worked for the Scottish Environmental Advisory Service Ltd. at the Dunstaffnage site from 1988 to 1991. After being seconded to the Akvaplan (as it was then known) for an initial six weeks, she ended up staying at the Tromsø-based company.
Dr Cochrane, who worked alongside former Dunstaffnage Marine Laboratory scientists Tom Pearson and John Blackstock, said: "It is really, really great to be back. It is wonderful to see the new buildings and how SAMS has developed.
"The relationship between SAMS and Akva-plan goes back to the 1970s and has continued from there. The collaborations were initially around seabed ecology but as SAMS has become bigger, we have been collaborating on a large number of projects.
"If there is one place I would like to work, other than Akvaplan-niva, it would be here."
The Norwegian delegates met with SAMS Director Prof Nicholas Owens before touring the campus, including the Scottish Marine Robotics Facility, and learning about SAMS' commercial outputs such as NewDEPOMOD, a modelling tool for the aquaculture industry.
Prof Finlo Cottier, an Arctic scientist who regularly works with Norwegian researchers, said: "This visit from Akvaplan-niva not only strengthens a decades-long relationship but also reinforces our research connections with Norway.
"Most of our scientific questions are answered only through international collaborations and Norway is a country with which we share interest in many areas, including Arctic climate change and aquaculture.
"I hope that we continue to work with Akvaplan–niva, as we all seek to answer some of the big questions in marine science."