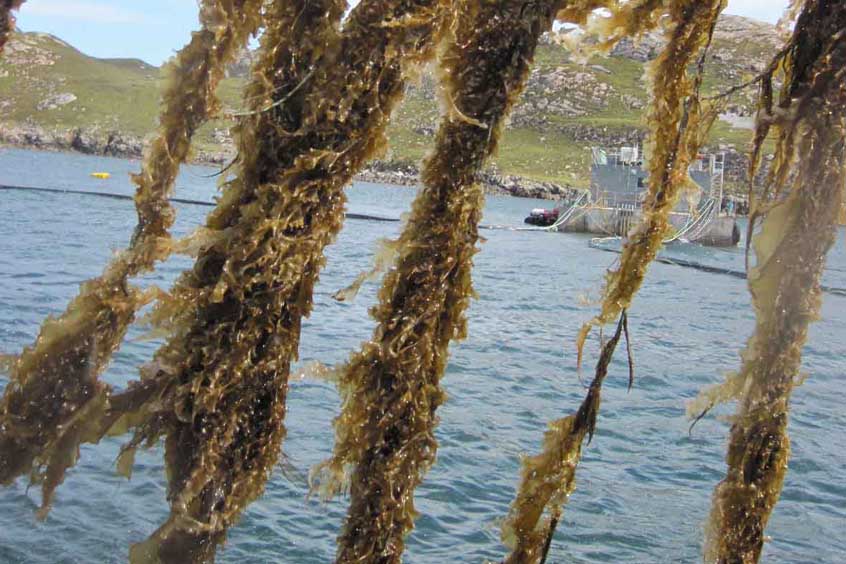 SAMS has today (March 14) opened registration for two algae events to be held in late April.
The Seaweed Academy and CCAP-ARIES projects will be launched on April 26 and 27 respectively, confirming SAMS as a specialist centre for microalgae and macroalgae research.
The Seaweed Academy will be the UK's first dedicated seaweed industry facility, offering advice to start-ups, training workers and sharing the latest research to help businesses develop.
The aim of the academy is to catalyse growth of an industry that has a crucial role to play in the UK's net zero, regional growth and levelling up aspirations. It will provide an innovative service to the sector, from seeded line through to research and practical skills at SAMS' existing seaweed farm sites.
The £407,000 grant from the UK Government's Community Renewal Fund is one of 56 projects across Scotland to share an £18m investment to help people into work and deliver net zero.
Globally, the seaweed farming industry has been growing exponentially and is estimated to be worth around $15billion per annum. However, the vast majority of this activity is in Asia and there is huge growth potential in Europe, with a growing demand for seaweed from gourmet restaurants to livestock feeds, pharmaceuticals and as a source of bio-energy.
CCAP-ARIES is an extension of the services already provided at the Culture Collection for Algae and Protozoa (CCAP) at SAMS.
CCAP-ARIES (Algae Research, Innovation and Environmental Science) Centre will increase capability for algae production and analysis. The £681,641 investment comes from the UK Research and Innovation (UKRI) Natural Environment Research Council (NERC), which also funds the collection's core running costs.
The investment will allow CCAP to greatly increase sample volumes and to develop a unique 'one-stop shop' for environmental algal research. As part of the upgrade, CCAP has invested in specialised equipment to automate DNA extraction and purify DNA for genome sequencing.
SAMS Director Prof Nicholas Owens said: "SAMS has been at the forefront of algal research since our inception in 1884, so it is fitting that we will host two world-leading facilities in The Seaweed Academy and CCAP-ARIES.
"I am excited about the forthcoming launch events in late April, which will allow us to showcase these new capabilities and demonstrate how we can help to develop research and the economy at local, national and global levels.
"We are extremely grateful to the UK Government's Community Renewal Fund and to UKRI-NERC for funding these projects and to our various partners who have helped us to make them happen."
To attend the launch events, either in-person, or virtually, see the links below:
Seaweed Academy In Person https://www.eventbrite.co.uk/e/seaweed-academy-official-launch-event-oban-scotland-tickets-290321859497
Seaweed Academy Virtual https://www.eventbrite.co.uk/e/seaweed-academy-official-launch-event-virtual-attendance-tickets-294253107967?keep_tld=1
CCAP-ARIES in person https://www.eventbrite.co.uk/e/ccap-aries-official-launch-event-oban-scotland-tickets-293077401397
CCAP-ARIES Virtual https://www.eventbrite.co.uk/e/ccap-aries-launch-event-virtual-attendance-tickets-293090851627?keep_tld=1