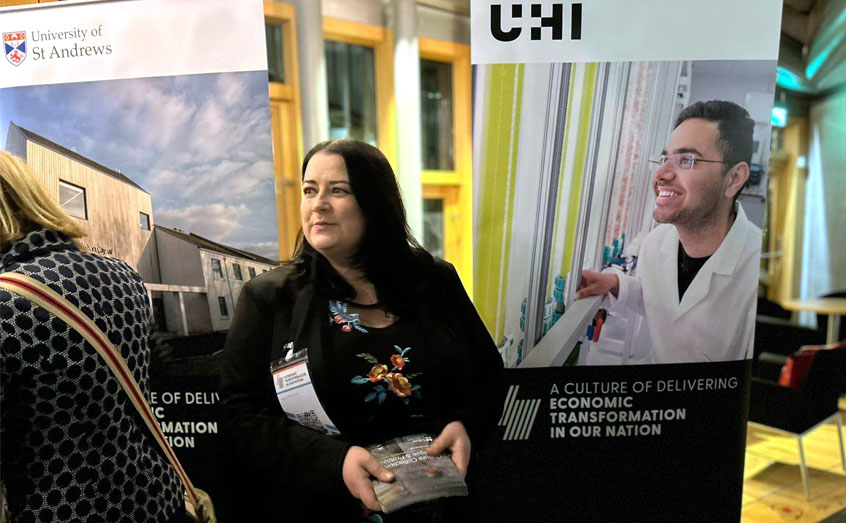 A unique collection of algae based at SAMS brought a bit of 'culture' to the Scottish Parliament at an event showcasing the best of Scottish university research.
SAMS, a partner of UHI, hosts the UKRI-NERC funded Culture Collection of Algae and Protozoa (CCAP), one of the most diverse collections of its kind in the world. This algal library holds around 3,000 strains of algae, protozoa, seaweeds and pathogens. Scientists maintain the cultures and send them around the world to help researchers and companies unlock the secrets of these incredible organisms.
The collection was showcased as part of the UHI presentation at the Universities Scotland parliamentary reception on January 31.
Already used in food, cosmetic and pharmaceutical industries, algae are increasingly being considered as a more sustainable food source in agriculture and aquaculture and could even be used to clean wastewater or reduce the methane emissions from cattle.
In April 2022, CCAP launched an extension to its services, known as the Algae Research, Innovation and Environmental Science (ARIES) Centre, thanks to capital funding from UKRI-NERC. More commonly referred to as CCAP-ARIES, the new facilities allow scientists to grow greater biomass of each strain and improves the team's capabilities in algal genetic research.
SAMS support scientist - and UHI student - Karen MacKechnie joined UHI representatives at the Universities Scotland parliamentary reception to outline the importance of CCAP-ARIES to algal research.
The Holyrood event focused on the role of universities and their importance in supporting economic transformation in communities, the wider region and internationally – closely aligned to Scottish Government's National Strategy for Economic Transformation and UHI's mission to have a transformational impact on the prospects of the Highlands and Islands, its economy, its people and its communities.
Head of CCAP Dr Michael Ross said: "Scientists around the world are looking for products useful to pharmaceuticals, cosmetics or to the food and beverage industries, and algae are high on the agenda, given their natural diversity and ability to grow in a sustainable way.
"Researchers are also investigating the use of algae as a fuel, in cleaning up environmental pollutants and even their ability to absorb carbon.
"We were therefore delighted that UHI gave us the opportunity to highlight the possibilities of algae at the parliamentary reception."