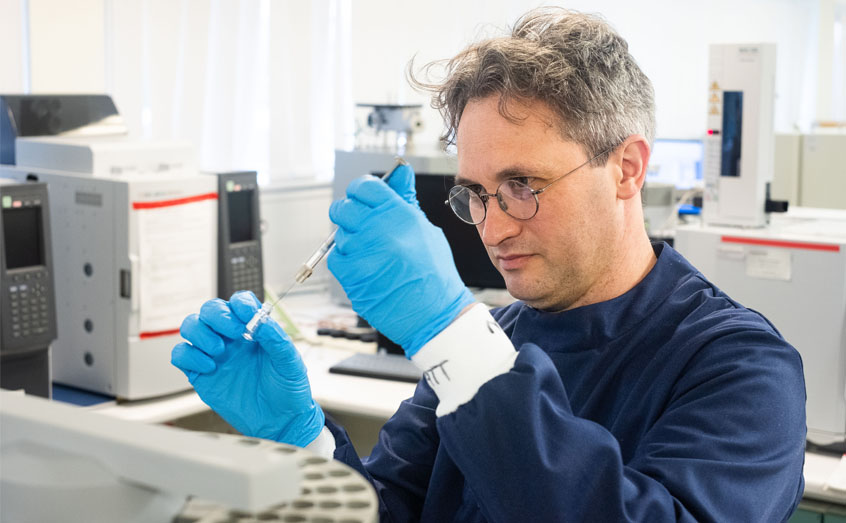 SAMS has launched a new Masters Degree in Algal Biotechnology, the first of its kind in the UK, in a bid to plug a skills gap in this rapidly growing industry.
Algal biotechnology involves harnessing the sustainable resources from algae, photosynthetic organisms that are among the most diverse living things on the planet and an untapped natural resource.
Algae are key to human life on earth, producing much of the oxygen that we breathe, but their natural products have a huge range of current and potential applications for humans, from pharmaceuticals and nutraceuticals to biofuels and fertilisers.
SAMS, a partner in the University of the Highlands and Islands (UHI), is at the forefront of algal research and has established the Masters course to help provide a skilled workforce to meet this expanding area of research and industry.
Course leader Dr Matthew Davey said: "It is an extremely exciting time to be involved in algal biotechnology, as our knowledge of these incredible organisms is increasing as developments in technology decrease the cost of research and development in this field.
"There has never been a more critical time to come up with sustainable products and natural alternatives to plastics. Algae can form at least part of this change.
"While there is huge scope for research and development, we must have creative, knowledgeable, skilled and motivated people who can take this forward. That is why we have created this Masters programme."
The full-time, one-year programme will be taught by algal experts from SAMS, the wider UHI network at UHI Inverness and other experts in the sector. Beginning in September this year, the course comprises of six taught modules and a research dissertation module, all of which are delivered by lectures, practical sessions, seminars and a residential trip to the University of Cambridge Algal Innovation Centre.
The course is able to offer two scholarships from the Sustainable Aquaculture Innovation Centre (SAIC) to cover course fees. The scholarships are available to applicants who meet Scottish residential status.
Professor Saul Purton, Director of UKRI BBSRC Algae-UK and Professor of Algal Biotechnology, University College London, said: "The algae sector in the UK and internationally is rapidly expanding, there is an increased demand for skilled staff in this sector and courses such as this will start to deliver experienced and knowledgeable personnel into these academic or industrial positions."
The Masters course will make full use of the SAMS-based Culture Collection of Algae and Protozoa (CCAP), which holds around 3,000 strains of microscopic organisms such as marine and freshwater algae, cyanobacteria and protozoa, as well as some seaweeds and seaweed pathogens.
The nearly 100-year-old collection, supported by UK Research and Innovation's (UKRI) Natural Environment Research Council (NERC), is one of the oldest and most biodiverse in the world and helps scientists around the world to discover new products and medicines and to understand the natural world in a changing climate.
CCAP recently benefited from a £681,641 UKRI NERC grant to upgrade its services, allowing the centre to greatly increase sample volumes and to develop a unique facility for environmental and innovative algal research and education.
For more about the course and to apply, visit https://www.sams.ac.uk/study/postgraduate/sams-algal-biotechnology-and-bioeconomymsc/