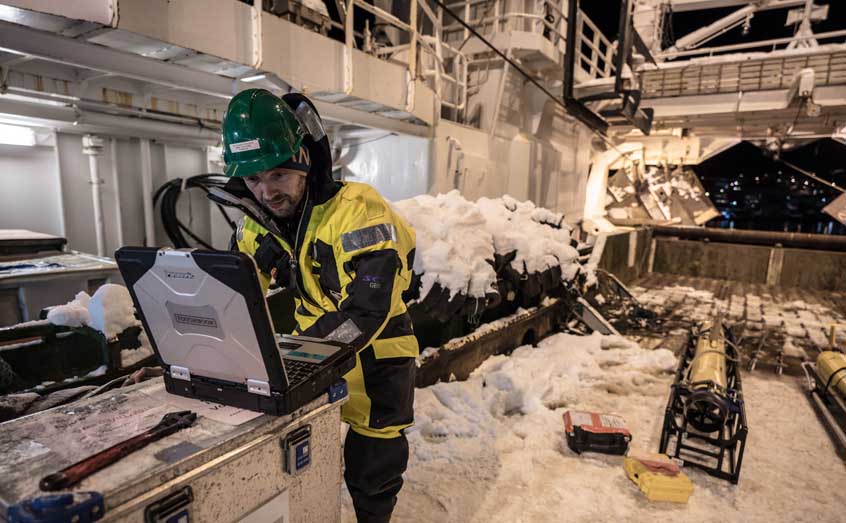 Researchers - and some marine robots – from SAMS are returning to the Arctic today to follow up their winter cruise in the Barents Sea in January.
But instead of working in constant darkness, the scientists will be taking measurements in near 24-hour daylight.
The cruise, on board the Norwegian vessel RV Helmer Hanssen, leaves Tromso today (Monday) is the second of three expeditions to the Barents Sea this year, as part of the NERC-fundedArctic PRIZE project.
The four-year project aims to give us a year-round picture of the biological, chemical and physical changes happening in the Arctic region throughout the seasons.
Lead investigator Dr Finlo Cottier said: "In the winter the Arctic is mainly in hibernation, although we have found there is still a lot of activity there as it gets ready for the 'spring bloom' – an explosion of life in the marine environment.
"Some of the sensors we have in the water have indicated that this bloom has just started and we will get to see the interactions between the ice, nutrients and phytoplankton and how that all works together.
"We are trying to see the difference in bloom conditions between open water, where there is no ice cover, and areas where there is ice cover. The ice provides a level of shading from the light, so in a photosynthetic process we would expect to see lots of bloom activity in open water and less under sea ice cover. We do, however, expect to see a different type of bloom on the underside of the sea ice."
The research team will again deploy robotic gliders, autonomous underwater vehicles to take measurements such as temperature, depth, salinity and oxygen over a period of months. Gliders deployed during the January cruise will be picked up and fresh gliders will be deployed. The team hope to get the first continuous long-term glider data from the Arctic by keeping a constant presence at sea.
Arctic PRIZE involves 17 partners from Europe and North America and centres around strong collaborative links between SAMS and the University of Tromsø.
Other UK partners involved are: University of Edinburgh; University of Oxford; University of St Andrews; University of Strathclyde; National Oceanography Centre. The project is part of NERC's Changing Arctic Ocean funding call.
Listen to Dr Cottier's interview with BBC Scotland science correspondent Ken Macdonald here, from 40 minutes, 50 seconds: https://www.bbc.co.uk/programmes/b09zggxq