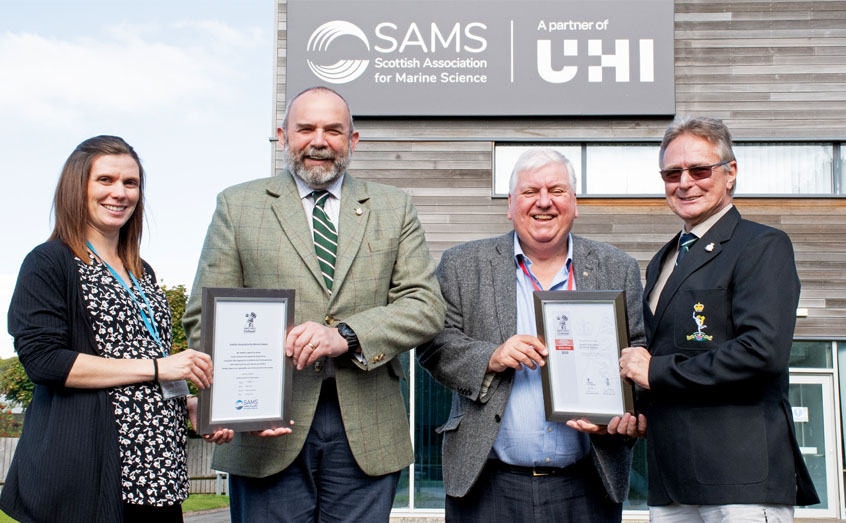 SAMS has signed up to the Armed Forces Covenant, a pledge that those who have served in the British Armed Forces will not be unfairly treated in their search for employment.
After the signing of the covenant, ex-servicemen already employed at SAMS were on hand to accept the Employer Recognition Scheme bronze award, a recognition that an employer is delivering tangible support for the Armed Forces community.
Roy McLellan, Ministry of Defence Regional Employer Engagement Director, presented the award to Cameron Harris, a member of the facilities team at SAMS and a former Royal Signals Corporal and recruit training instructor.
Head of SAMS Enterprise Mike Spain, former Intelligence Corps and a reservist for 20 years, said: "We are delighted to have gained the Armed Forces Covenant Employment Recognition Scheme bronze award.
"As part of SAMS' commitment to equality, diversity and inclusion, it demonstrates our support to the armed forces community – serving members, veterans, reserves and their families – across employment and education.
"Looking at the types of roles we have in professional services at SAMS, many former armed forces personnel will have the skills we are looking for and can bring a raft of great qualities with them."
Around 19,000 people come out of the British Armed Forces every year.
In addition to public bodies and businesses of all sizes, signatories to the Armed Forces Covenant include 45 universities.