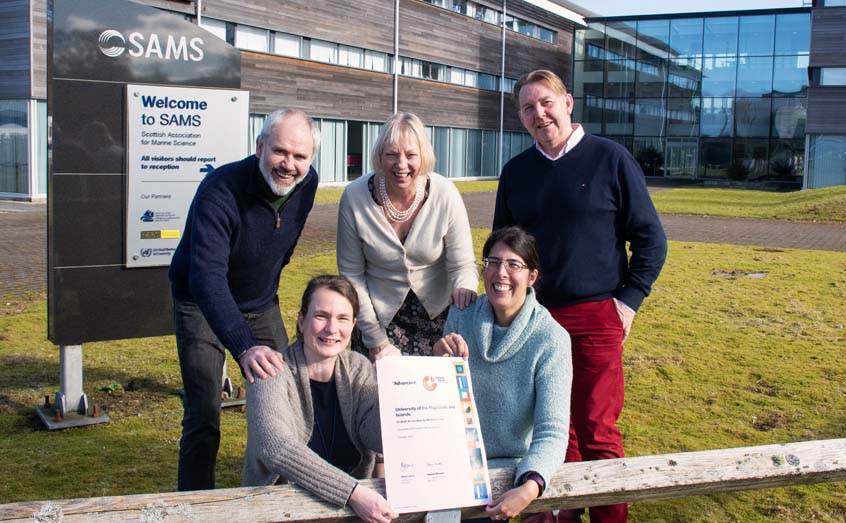 SAMS' commitment to gender equality has been recognised, as the institute was presented with an Athena SWAN (Scientific Women's Academic Network) Bronze Award.
The Athena SWAN Charter is a framework used across the globe to support and transform gender equality within higher education (HE) and research. Established in 2005 to encourage and recognise commitment to advancing the careers of women in science, technology, engineering, maths and medicine (STEMM) employment, the Charter is now being used across the globe to address gender equality more broadly, and not just barriers to progression that affect women.
By earning a bronze award, SAMS, a partner of UHI, has demonstrated an ongoing commitment to advancing gender equality, representation and success for all staff.
SAMS drew volunteers from across the staff and student body to make up the Athena SWAN self-assessment team, a group responsible for the bronze award application. The team consisted of: Sue Johnson, Ann Mackenzie, Axel Miller, Bhavani Narayanaswamy, Elizabeth Cottier-Cook, Steven Benjamins, Anja Wittich Denise Risch, Andy Crabb, Cat Ravenhill and Monika Kosecka.
Sue Johnson, out-going Head of HR at SAMS, was proud to have helped SAMS gain the bronze award as one of her final contributions to the role.
She said: "SAMS is a welcoming and inclusive organisation, so it is fantastic to have that recognised through the Athena SWAN Charter.
"I think it was important that we had a self-assessment team that was drawn from across the professional disciplines and had male and female representatives. We need everyone to understand the potential barriers to progression that affect women and to be aware of the importance of gender equality to an organisation."
Find out more about the Athena SWAN Charter: https://www.advance-he.ac.uk/equality-charters/athena-swan-charter