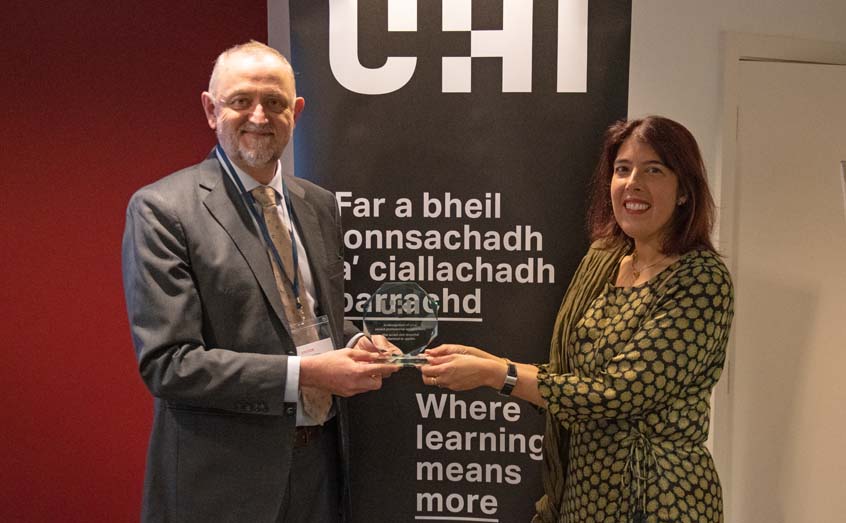 A scientist at the Scottish Association for Marine Science (SAMS) who has played a key role in understanding the biodiversity of Scotland's underwater mountains, as well as exploring the issue of microplastics in our oceans, has been officially welcomed into the University of the Highlands and Islands (UHI) professoriate.
Professor Bhavani Narayanaswamy is a senior lecturer and head of graduate school at SAMS, a partner of UHI. Originally from, India, via Sussex and Bangor, North Wales, she joined the Oban-based institute in 2005.
On Thursday, May 19 she gave her inaugural professorial lecture: A traveller's tales: From Kolkata to the deep-sea in front of a capacity audience in the William Spiers Bruce lecture room at SAMS along with nearly 200 people online who tuned in live from as far afield as Australia.
Prof Narayanaswamy now shares the academic title with husband Prof Keith Davidson, who is also a marine scientist at SAMS.
Over the course of her 20-year career, Professor Narayanaswamy has developed an international reputation for her research on deep-sea ecosystems and, more recently, the distribution and abundance of microplastics in the world's oceans. She has helped to attract over £5.3 million of research funding to SAMS UHI and has collaborated with researchers across the world.
Professor Narayanaswamy's work has revealed that tiny pieces of plastic are present in even the deepest parts of the marine environment. Her research has been shared at international conferences, in academic journals and through publications such as the National Geographic and Guardian. The findings have informed policy makers, government, the United Nations, businesses and fellow scientists.
In her lecture, Prof Narayanaswamy took the audience on a journey of insights into various elements of her research, from understanding how biodiversity changes in various areas of the deep-sea from our own doorstep of the Faroe-Shetland Channel, through to the polar realms of the Weddell Sea and Barents Sea.
During her lecture she quizzed the audience on what they thought of when they heard the term the deep sea. Prof Narayanaswamy also surprised the audience by asking her two sons to help present artwork that brought together science and art which had been undertaken by their school.
Professor Narayanaswamy has been commended for her passion in sharing her knowledge and inspiring others. In her role as head of SAMS UHI graduate school, she supports up to 50 marine science research students each year. She mentored junior female scientists on an Arctic research cruise in 2018 and also volunteers as a STEM ambassador, promoting science, technology, engineering and maths subjects to local school children.