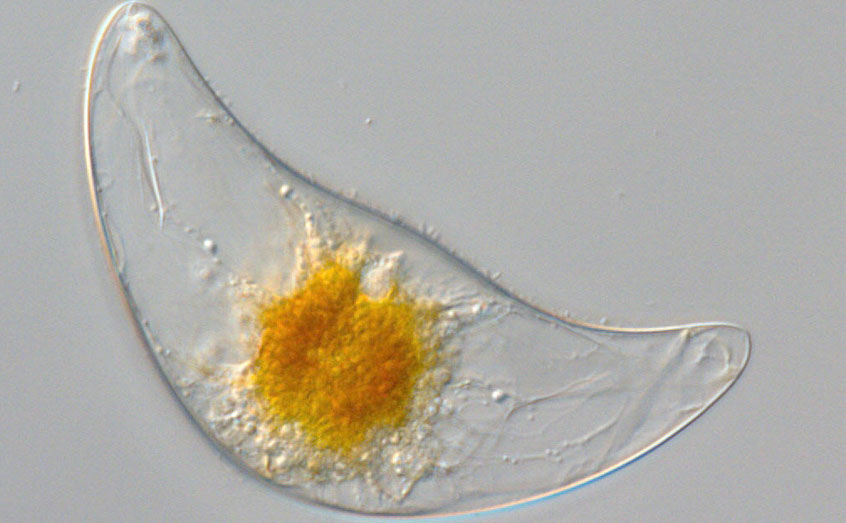 SAMS had a shining, but very small, part to play in this year's Royal Institution of Great Britain Christmas Lecture series – literally.
The opening shots of the first lecture were of speaker Prof Alice Roberts swirling a flask of glowing liquid in the dark.
What she held was a unicellular bioluminescent marine dinoflagellate called Pyrocystis lunula.
The Pyrocystis lunula sample was supplied by the Culture Collection of Algae and Protozoa (CCAP), based at SAMS and funded by the Natural Environment Research Council (NERC).
Found in the Atlantic Ocean, this microscopic creature produces a blue glow effect when disturbed.
This is achieved by a chemical reaction occurring in each individual cell between the enzyme Luciferase and the substrate luciferin.
It is just one of more than 3,000 strains of algae and protozoa stored in CCAP, which provides samples for research and commercial use throughout the world.
Begun by Michael Faraday in 1825, the CHRISTMAS LECTURES are now broadcast on UK television every December and only stopped from 1939 to 1942, when it was too dangerous for children to come into central London. The theme changes every year, and they are delivered by an expert in their field.
Although they began with little fanfare, many world-famous scientists and science communicators have given the lectures since then, including Carl Sagan, David Attenborough, George Porter and Richard Dawkins.