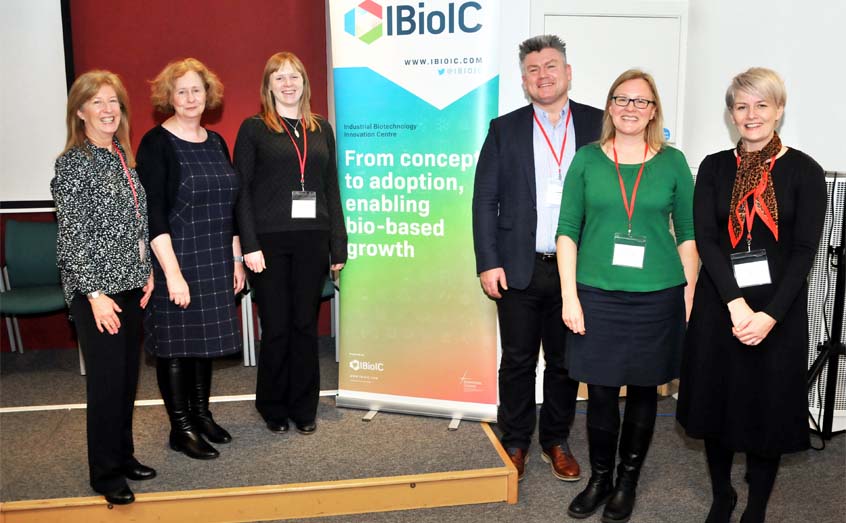 Leading biotechnology companies from around the UK gathered at SAMS this week to learn how academia and industry can work together to unlock the potential of algae.
Already used in packaging, pharmaceuticals and food, algae has a plethora of potential uses but scientists and businesses believe there could be more to come.
The one-day event on Exploring Opportunities in Blue Biotech and Aquaculture was organised by the Industrial Biotechnology and Innovation Centre (IBioIC), the Scottish Aquaculture Innovation Centre (SAIC), Highlands and Islands Enterprise (HIE), Zero Waste Scotland and SAMS.
IBioIC exists to stimulate the growth of the industrial biotechnology sector in Scotland to £900 million by 2025 and connects industry, academia and government.
At the event at SAMS on Tuesday, delegates heard from industry representatives and academics, followed by discussions on potential collaborations.
Dr Magnus Nicolson is CEO of Fixed Phage, a company that uses patented technology to attach bacteriophages to fish and animal feeds in order to reduce, augment or even substitute for antibiotics in the food chain.
He said some of the leading, and most innovative, algal biotechnology companies in the UK had been attracted to the conference, in part, because of the excellence of SAMS in algal research. One big application of algae is in the production on Omega 3s like DHA and EPA. Unlike Omega 3s purified from fish, algal derived Omega 3s have far less environmental contaminants like PCBs and Dioxins.
Dr Nicolson added: "It is great to see marine biopolymers being evaluated as replacements for plastics. The biggest environmental threat to our oceans could actually be solved by substituting plastics with a number of safe, renewable and biodegradable marine biopolymers, some of which were discussed today."
Agriculture and aquaculture industries are also interested in how algae could provide a food source for animals.
Don Fowler, senior innovation manager at SAIC, said: "Blue biotech and aquaculture are intimately linked: almost every current aspect of fish and shellfish production requires biotech approaches. Present and future challenges will be solved by the integration of new biotech solutions to these challenges – allied with connectivity solutions, big data and artificial intelligence.
"It is excellent to see such a broad spectrum of representatives from business and academia sharing opportunities."
Dr Michele Stanley, SAMS Associate Director for Science, Enterprise and Innovation, said: "SAMS is delighted to host an event like this, which works at the academic to industry interface.
"By pooling our collective expertise and knowledge we can develop new and innovative industries and techniques."