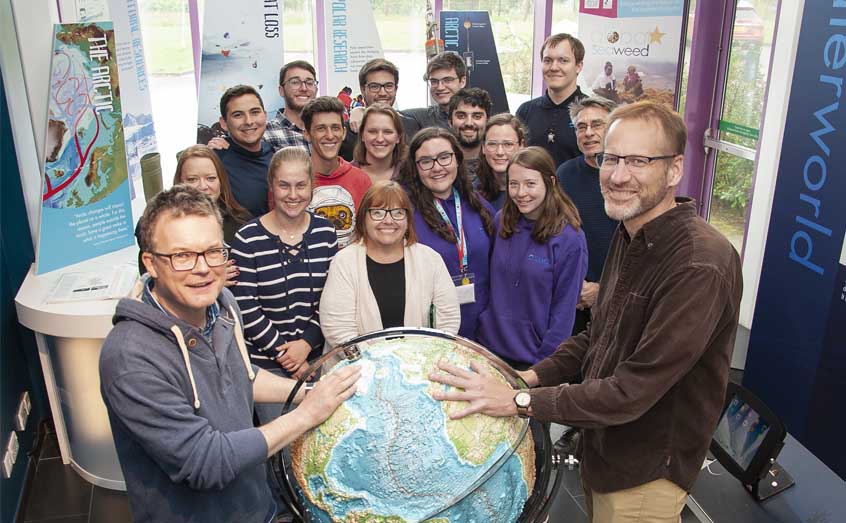 Two universities separated by the Atlantic Ocean, but with a shared expertise in marine science, have announced a new student exchange programme.
The announcement comes at the end of an annual three-week field course run by Oban's Scottish Association for Marine Science (SAMS UHI) for science students from Coastal Carolina University (CCU), South Carolina.
Since 2017 the American university has sent a group of students on the training course in Argyll, where they learn various aspects of oceanography and take in aspects of local history and culture.
This autumn, for the first time, there will also be a student exchange between CCU and the University of the Highlands and Islands, further strengthening the transatlantic link.
Students on the exchange will have the chance to take courses not offered by their home institute. SAMS UHI students Natasha Bryan and Paula Benders will this year travel to South Carolina to study subjects as diverse as shark biology and marshes.
Last year's field course has resulted in one CCU student applying for the 2019 intake of students on the ACES aquaculture Masters run by SAMS UHI.
Announcing the beginning of the exchange programme, Dr John Howe, BSc programme leader at SAMS UHI, said: "The CCU visit is something I look forward to every year, as the students are incredibly enthusiastic, full of energy and love their science.
"By building on our transatlantic links, we have been able to start an exchange programme, which I believe will be popular on both sides of the pond.
"I also believe both sets of students will benefit greatly from being immersed in a different culture, both socially and academically, but I also hope all of these young academics find shared experiences and create international networks that last throughout their careers."
This year's field course group from CCU arrived on Tuesday, May 14. During this they learned a range of new skills, including lab work and how to collect samples at sea.
Group leader and Associate Professor of Physics and Physical Oceanography at CCU Louis Keiner has existing links to the Oban area. His wife, Lesley grew up in the town and his father-in-law, Norrie Etherson, lives in the village of Connel, near to SAMS UHI.
Prof Keiner said: "This trip to Scotland gives the students a chance to experience oceanography in a completely different setting.
"The rivers and estuaries where we study are very different, in every respect, so they enjoy the opportunity to take measurements and plot their data in a completely new environment. Many of the students have never been outwith the US, so for them the trip to Scotland is an eye-opening experience that has really whetted their appetite for global travel.
"For all of those reasons, and more, I am delighted to help establish an exchange programme between CCU and SAMS UHI. CCU is a wonderful place to study but it's a big world and we encourage the students to see what's out there."