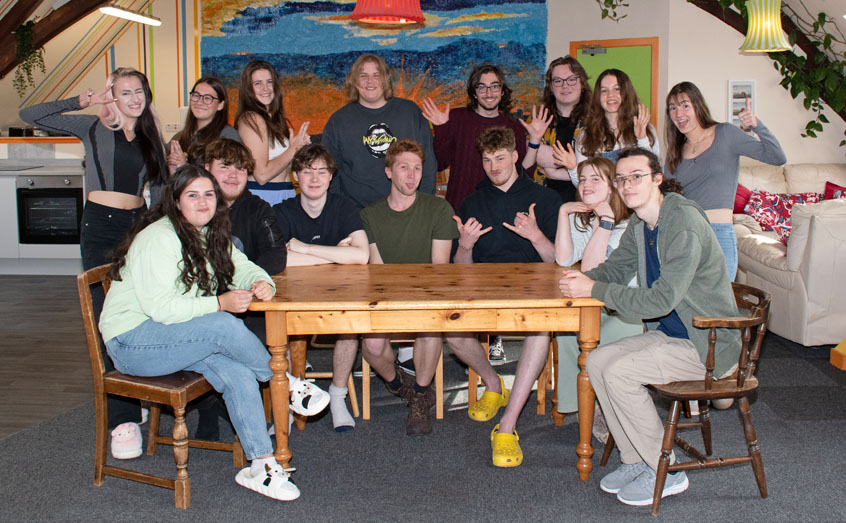 A newly renovated Oban town centre building is now home to 19 students thanks to a collaboration between SAMS and local entrepreneurs.
Dunollie Halls of Residence is a new project to refit the former United Free Church, at the intersection of Dunollie Road and Breadalbane Street. It is now providing dedicated accommodation to new marine science students at SAMS, a partner of UHI.
The building was most recently used as a Backpackers Plus Hostel, which closed down following the Covid-19 pandemic. The refurbishment has been led by developers Dunollie Halls Ltd.
A spokesman for the company said: "The shortage of accommodation in town for SAMS students was already well known to us and, whilst working on a different project, we discussed the problem. We identified the Backpackers Plus Hostel as a possible solution, so when the opportunity arose, we started the conversion with great enthusiasm.
"We immediately fell in love with the building and developed this 150-year-old church using the most environmentally friendly materials available and the best of local professionals and trades. The safety and wellbeing of students was the top priority for us, so we installed a brand new sprinkler system. Having seen some very poor student accommodation elsewhere, we wanted to give our tenants the best quality, most spacious living environment we could - good enough for our own children to live in as students.
"We are very happy to be responsible for adding something unique to the accommodation offer in Oban, retaining the architecture of this historic building and some of the quirky features of previous occupants."
The facilities include five kitchens, a spacious communal area, study room, laundry room and storage for bikes and outdoor equipment.
All of the carpets laid are made from recycled fishing nets and plastic bottles, with the halls incorporating some of the former church's stained glass windows and unique features of the old Backpackers Hostel.
The paint used throughout the building was also manufactured with British made graphene, meaning that it helps to absorb carbon dioxide.
Second year student, Chloe Preece was one of the first students to move into the halls and has described how she was "blown away by how the place looks".
"I've been in some other student accommodations and this one blows them out of the water," said Chloe. "It's absolutely beautiful and once everyone else had moved in it's been a wonderful experience. I'm glad I chose to live here and I think we're going to be really happy here for the next year."
SAMS Director Prof Nicholas Owens said: "During any given academic year SAMS will host up to 180 students from undergraduate to PhD levels, notwithstanding interns and visiting students. I am proud that we are attracting young and talented people to Oban and I think they have much to offer the community.
"Finding rental accommodation for students in a busy town like Oban has become increasingly challenging, so we were delighted with the opportunity presented by the new Dunollie Halls.
"The refurbishment of the Backpackers Plus Hostel has been made with students in mind and to a high standard. This is a tremendous step forward for Oban as it seeks to grow its student community."
The former church building is a landmark of Oban, having been built in 1868. It was used as a church until 1957 and in 1975 was divided and sold off for commercial development. Since then, it has housed shops, offices, a gym and a hairdresser, before becoming a hostel in 2012.