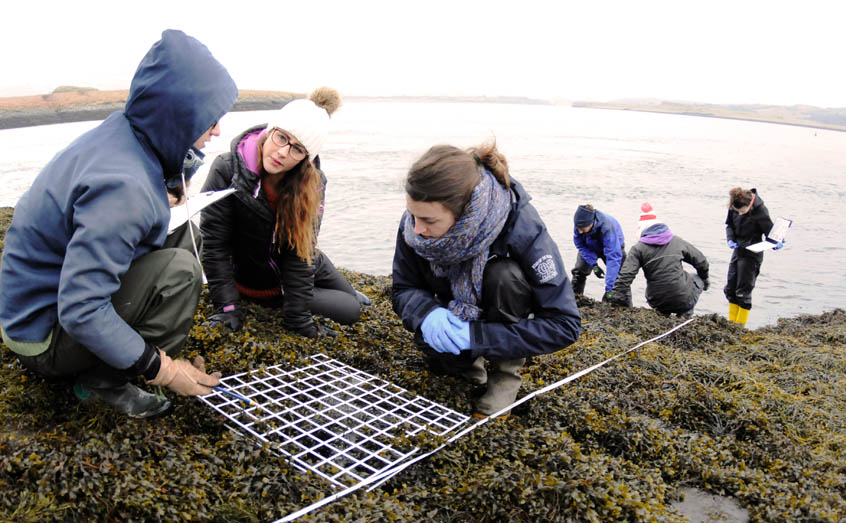 Marine science teaching at SAMS UHI has been rated among the best in the UK following the publication of two student surveys and The Guardian University Guide for 2022.
The university guide, a comprehensive league table based on student experience and prospects, ranked the earth and marine sciences offering at the University of the Highlands and Islands as third in the UK, and first in Scotland.
SAMS UHI, an academic partner in the university, had already received a glowing report from undergraduate and Masters students in their respective student surveys.
The National Student Survey, which seeks opinions from final year undergraduate students across the UK, returned a satisfaction score of 100 per cent, despite the Covid-19 lockdown forcing all teaching online. Across the UK, the disruption to teaching caused by lockdown was cited as a reason for a general drop in student satisfaction ratings.
A similar survey of taught postgraduate students within the university also returned a 100 per cent satisfaction rating for SAMS UHI.
Prof Keith Davidson, SAMS UHI Associate Director for Education, said: "We are thrilled with these results, which reflect the efforts of our lecturers to maintain our high standards of teaching in the most difficult of years.
"We are also indebted to the wider education team, which encourages a friendly and supportive environment, with student care the utmost priority.
"While the university rankings and student satisfaction surveys have come as great news for everyone involved with teaching at SAMS UHI, such acclaim comes with a responsibility to ensure we continue to meet our own high standards now that we have returned to face to face teaching.
"At such an important time for the ocean and the wider global environment, we must continue to develop well-informed and dedicated researchers to become the scientific leaders for the next generation."
The SAMS UHI BSc Marine Science course allows students to develop a rounded understanding of the marine system, integrating the biology, chemistry, physics and geology of the marine environment, from Scottish lochs to the deep sea and from polar seas to the tropics.
Students can also choose to specialise in Arctic Studies or Oceanography with Robotics.
Graduates have gone on to careers in academia, as well as marine industries, conservation and governance.
Upcoming open day events will give prospective students a chance to learn more about the course. The next event is online ONLINE OPEN DAY 2021 | BSc (Hons) Marine Science SAMS UHI Registration, Wed 6 Oct 2021 at 13:00 | Eventbrite.
On October 30 and November 6 there will be open days on campus, when pre-booked visitors will have a tour of SAMS in groups that comply with Covid-19 guidance. Keep a look out on social media and at www.sams.ac.uk for information on how to book your place on these events.
Find out more about studying at SAMS UHI: Undergraduate — The Scottish Association for Marine Science (sams.ac.uk)