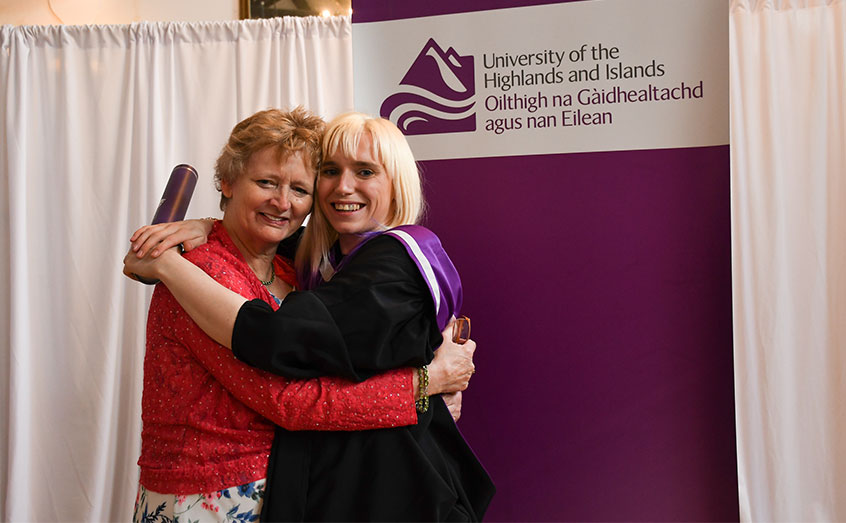 A determined student who had to pause her studies to care for her ill mother has graduated with an Honours Degree from the Scottish Association for Marine Science (SAMS) UHI – and has been named the institute's student of the year.
Eleanor Lawrie, from Aviemore, completed the first year of the BSc Marine Science at the Oban-based institute before learning her mother, Karen, had a brain tumour. Following a successful operation, her mother then needed a kidney transplant for an existing condition.
With the support of staff at SAMS UHI, her friends and her mother, Eleanor returned after a gap of nearly two years to complete her Honours studies. She has contributed to a forthcoming research paper about the effect of ocean acidification on cold-water corals and works as a quality monitor and fish welfare officer at Scottish Sea Farms in South Shian, Argyll.
"When I started out at SAMS UHI I could never have seen myself where I am today," she said after receiving her student of the year award at the SAMS UHI graduation ceremony on Friday, September 6 in Oban's Argyllshire Gathering Halls.
After a high school teacher told her she would be lucky to get a job stacking shelves, Eleanor enrolled in Inverness College UHI to gain her science Highers. Knowing Eleanor's passion for the marine environment, her lecturer Gavin Campsie suggested she could thrive at SAMS UHI.
The 25-year-old said: "The first year at SAMS UHI was great; I enjoyed the fundamentals of a range of new subjects, like geology, and I found it easier going from one University of the Highlands and Islands institute to another.
"I then had to take a year off when my mum was diagnosed with a brain tumour. My dad died when I was seven, so my mum and I are really like best friends and I had to be with her.
"Thankfully, things turned out okay but I tried to come back too soon and had to take some more time off. It was lucky I did because we got a phone call at home in Aviemore at 4am one day to say that a kidney was ready for a transplant operation I Edinburgh. We had three hours to get there and I knew the journey would take two-and-a-half hours!"
After helping her mother recover from the transplant operation, Eleanor started second year for a third time with a new group of students. Seeing her original cohort graduate gave her extra incentive to complete her degree course.
"I was determined to finish," said Eleanor. "Thanks to the support from SAMS UHI staff, my friends and my mum, I never thought I couldn't do it. SAMS UHI staff knew about my mum but would often ask how I was. No-one had asked me that for a long time and it reminded me to look after myself too."
In her third year, Eleanor spent six months on an exchange at Van Hall Larenstein University in Friesland, Netherlands on a fisheries and aquaculture course.
She said: "The exchange year was great for me because I was the only SAMS UHI student there and I became much more organised and focussed," Eleanor said. "My mum was well and I thought that if I was going to go anywhere, now was the time."
Reflecting on the past four years, she said: "People have said nice things to me about finishing my degree but I could not have done it without the education team at SAMS UHI, my friends and my mum.
"My mum's tumour came back while I was in the Netherlands but she didn't tell me until I came back, because she knew I would have come home. It's not my strength that got me through the past four years, it was everyone's strength put together."
Eleanor was just one of 21 undergraduate students to gain their BSc Marine Science Degree last Friday - the same week a record high 39 new students arrived to join the course. The graduation ceremony also marked the presentation of six PhD awards and 17 Masters Degree Awards, including the first two University of the Highlands and Islands PhD awards.
Former BBC Newsnight science editor and SAMS trustee Susan Watts gave this year's keynote address and the honour of mace bearer was given to Dr Jordan Grigor, a 2010 graduate of SAMS UHI who has since returned as an Arctic scientist.
This year's prizewinners were: Johanna Fehling Memorial Prize (best published paper by a PhD student) - Jacob Bentley; Prize for Best ACES Dissertation – Mary Arnaldo; SAMS Board Award for Academic Excellence – Simon von Sachsen-Coburg und Gotha; SAMS Overall Achievement Award – Alistair Walker; Tim Boyd Prize for Polar Science – Frederick Fleet; SAMS UHI Student of the Year – Eleanor Lawrie; Sporting Blues Awards – Joe Penhaul-Smith and Iain Walsingham; Highlands and Islands Students' Association Sports Club of the Year – UHI Wind and Wave Club.