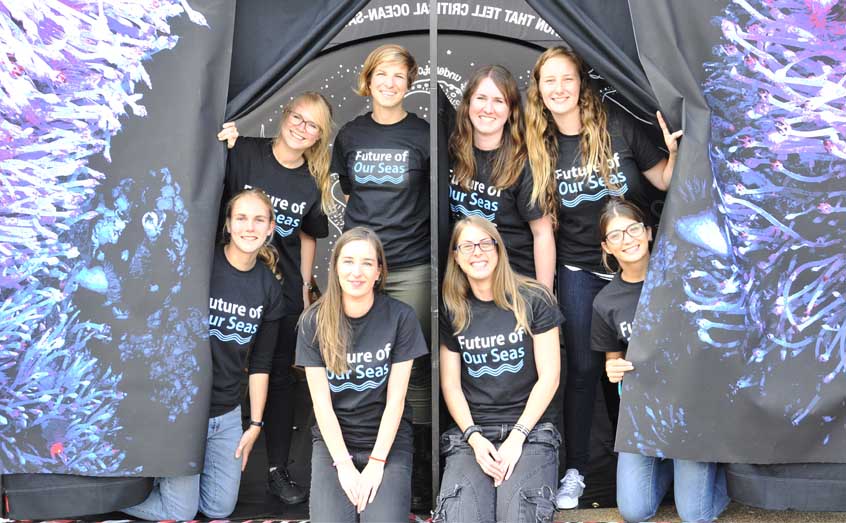 Research on cold-water coral reefs, underwater noise and how to make car windscreens using bacteria were just some of the topics that sparked interest at a marine science public event in Oban this week.
Future of Our Seas gave young scientists a platform on which to display their research projects to members of the public; this particular platform just happened to be a huge, eye-catching inflatable dome in Station Square, in the centre of town.
The 12 scientists, including two from SAMS, had to devise engaging ways of communicating with the public and worked with DJs, artists, designers and conservationists to create their exhibits.
The event, funded by the Natural Environment Research Council (NERC), was organised by the Future of Our Seas consortium, which includes SAMS and the events company Incredible Oceans.
Fashion company Crubag, which uses images from marine science to create textiles and is based at SAMS, worked with the researchers on their science communication and also had a display stand at Station Square.
Future of Our Seas aims to improve science communication techniques among early career scientists and provided training for those taking part. A similar event was held in Plymouth earlier this year.
Dr Raeanne Miller of SAMS, who helped to organise the Oban event, said: "It was such a great two days. We had several hundred people come along and take part in the activities designed by young scientists from across the UK.
"Many of our visitors were from Oban and the surrounding area, but we also had a lot of tourists from all over the world visit the dome. It was great to be able to showcase marine science to such a wide audience, and to add to the lively summer atmosphere in Oban.
"The scientists who participated were brilliant, and it was great to see them grow, develop, and bring to life their ideas for engaging activities."
Future of Our Seas is funded under the NERC Engaging Environments Scheme.
The consortium partners are: Marine Biological Association, University of Plymouth Marine Institute, Kings College London, Joint Nature Conservation Committee, Sir Alister Hardy Foundation for Ocean Science, University of Edinburgh, Scottish Association for Marine Science, Incredible Oceans, Invisible Dust.