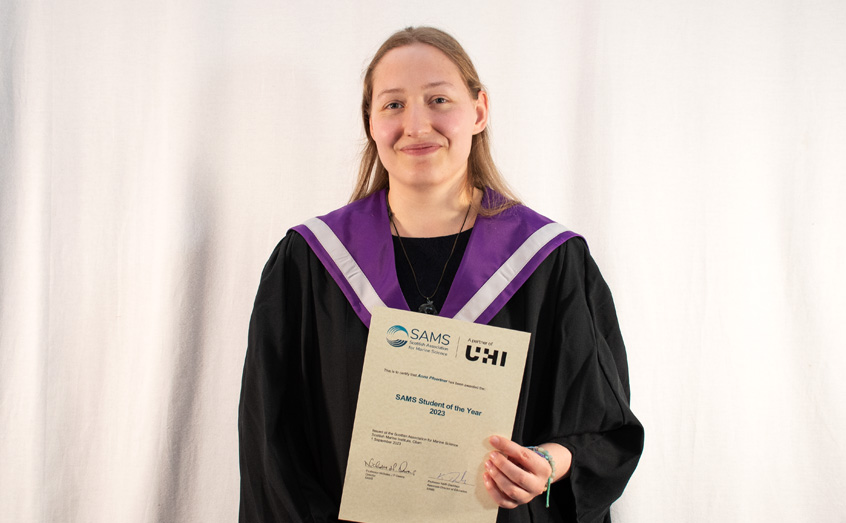 A student from Germany who battled chronic health problems to earn a first-class honours degree at the Scottish Association for Marine Science (SAMS), a partner of UHI, has been named the institute's student of the year.
BSc (Hons) Marine Science graduate Anna Pfoertner received her award at the SAMS graduation ceremony today [Friday] in Oban's Argyllshire Gathering Halls, attended by undergraduate and postgraduate students and their families.
The 23 year old described student support staff at SAMS as 'a family away from home' after helping her through five years of study. Her health began to suffer during her second year in Oban, but it wasn't until her fourth year that she was diagnosed with chronic fatigue syndrome, postural tachycardia syndrome (PoTS) and Fibromyalgia.
"I felt extremely tired all the time and struggled to keep up," she said. "As my health got worse, there were times I thought I'd have to stop, but I always had support at SAMS. I don't think I would have made it without that help.
"There was even a time when walking from the bus to my lectures was a huge physical challenge. Through student support services I was able to get funding to help with taxis and I had reduced hours in class, allowing me to do more online study.
"It was important for me to push myself to get as high a grade as possible, while learning how to look after myself and giving myself time to rest."
Anna says her grandfather, who died during her studies in Scotland, was the source of her strength to carry on and excel in her studies. He had been one of the first German exchange students to travel to the UK after the Second World War.
"My grandfather influenced me greatly," she said. "I would like to think my strength, dedication and love for learning is a sort of legacy to him.
"I'm not the type of person who thinks too much about my achievements, but I am definitely proud of what I have done at university. I've allowed myself to reflect on how much has gone into the past five years and it does feel very special."
In her third year, Anna applied to become a student ambassador and attended events to promote the course at SAMS and the wider UHI.
"I became an ambassador because I wanted to give something back," she said. "I had so much support from SAMS and I realised what an incredible place it is, so I wanted others to experience that. I have also become interested in science communication and the ambassador role allowed me to speak to people about marine science. I gained a lot of confidence from that."
Anna was one of seven award winners at the graduation ceremony, including fellow graduates Vaila Grigg, who won the Tim Boyd Prize for Oceanography, Jonathan Taylor, who was presented with the Overall Achievement Award, and Oriarna Willets, who gained the Academic Excellence Award.
Ivan Cautain won the Johanna Fehling Memorial Prize for the best student research paper; Peter Osaigbovo won the ACES+ Dissertation Prize and Christian Armstrong, last year's Johanna Fehling Memorial Prize winner, was this year awarded the Graham Shimmield Prize for Biogeochemistry.
Prof Neil Simco, UHI Deputy Principal (Academic and Research), was the presiding officer and Dr Hermoine Cockburn OBE, Scientific Director at Dynamic Earth, gave an inspirational keynote address in which she encourgaed this year's graduates to use their knowledge to raise levels of ocean literacy among the public.
This year's cohort was commended for showing high levels of resilience to complete their degree during the Covid-19 pandemic.
SAMS Director Prof Nicholas Owens said: "Graduation is a wonderful day in the SAMS calendar; a chance to celebrate success and to acknowledge a lot of hard work from many people.
"Stories like Anna's show what you can achieve with the right support and determination, and I am delighted to see her named as our student of the year.
"I hope our new students who arrived this week will take inspiration from today's graduates and be assured that they too will be supported throughout their student journey."
Find out more about studying at SAMS: Study — The Scottish Association for Marine Science (sams.ac.uk)