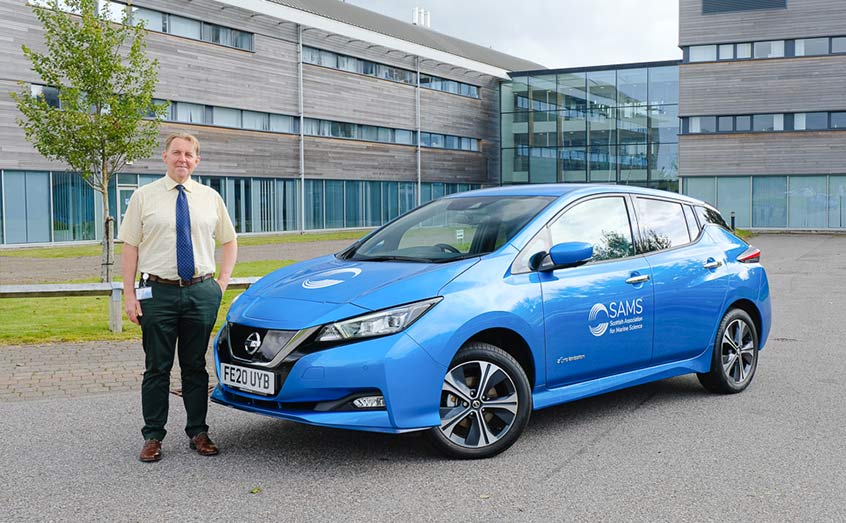 The Scottish Association for Marine Science (SAMS) is on the road to a 'greener' future after taking delivery of an electric car as part of a drive to make its Dunstaffnage site more environmentally friendly.
The Nissan Leaf, which replaces a diesel work vehicle, arrived following the award of two internationally recognised standards for environmental management and for health and safety.
The institute passed a stringent examination of its health and safety and environmental management procedures to gain the International Standards Organisation (ISO) 14001:2015 standard for environmental management and the ISO45001: 2018 standard for health and safety. This is in addition to the ISO 9001 and ISO 17025 quality marks already achieved for many aspects of its commercial activities.
The awards recognise a long-held commitment to safety in the workplace and to reducing environmental impacts and waste at the lab. The changes are part of SAMS' new environmental management plan to overhaul many of its practises.
A staff-led sustainability group is helping to inform company policy and next steps include installing electric charging points at the campus, near Oban. SAMS has already taken delivery of a fully electric Polaris ATV utility vehicle to replace a diesel equivalent and the institute was declared a Cycle Friendly Employer this year after opening new shower and changing facilities and a cycle shed.
SAMS Director Prof Nicholas Owens said: "We feel it is important that organisations like SAMS lead the way in ensuring workplaces are as environmentally friendly as possible and as a laboratory we treat workplace safety with paramount importance.
"The ISO standards, recognised throughout the world, are an important milestone in proving we practice what we preach and will ensure we do not rest on our laurels; we strive to keep doing better.
"I'd like to thank the team led by the safety, health and environment adviser Chris Clay for helping us gain these awards."
A standard is a framework that describes the best way of doing something. It provides a reliable basis for people to share the same expectations about a product or service.
The SAMS assessment was more than two years in preparation and carried out over seven days. This had to be done remotely because of the COVID-19 lockdown.
Diana Murray, Chair of the SAMS Board, said: "These standards are important to the entire scope of work at SAMS, across research, education and enterprise as we strive for excellence in all that we do.
"While we have always known that SAMS delivers the highest quality across all its operations, we now have an internationally-recognised benchmark to prove that to our staff, students and customers."