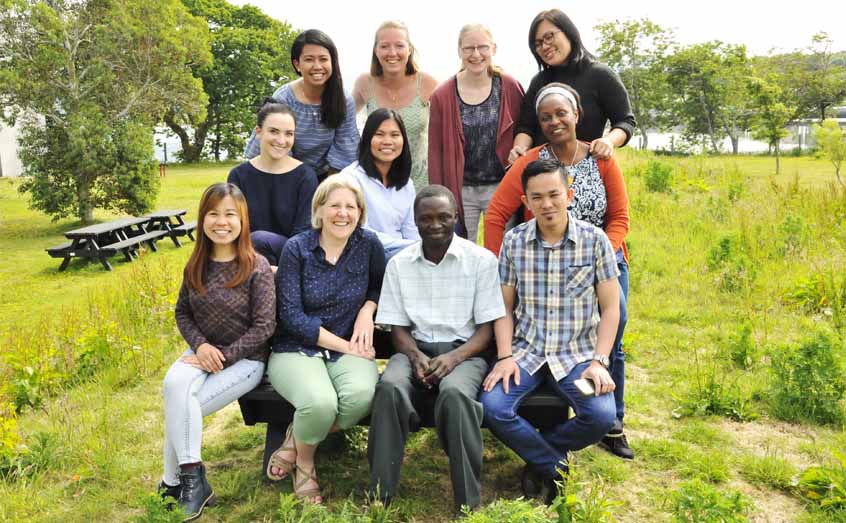 A team of early-career seaweed scientists is leaving SAMS after six months learning from researchers at the Oban-based marine institute.
The 11 scientists arrived from Tanzania, Indonesia and the Philippines during a cold Scottish winter but, after quickly adjusting to the colder climate, began their research work as part of the SAMS-led GlobalSeaweedSTAR project. Seven of the early career researchers (ECRs) have stayed at SAMS for the whole six months, with the others travelling to Cefas, the Overseas Development Institute and the Natural History Museum to complete their studies.
The project will examine seaweed disease and the introduction of non-native species and will work to ensure the sustainability of the seaweed industry, which is especially important in developing nations.
Jee Suyo, who works at the Southeast Asian Fisheries Development Center (SEAFDEC) in the Philippines and has been at SAMS since January, said her first trip to Europe was 'transformative'.
"I learnt a lot from the researchers at SAMS but I gained much from the overall experience of living and working in Scotland.
"I have been out hiking a lot and have had time to reflect on what I've learned; the landscape and the environment are inspirational. In the Philippines, there are many people around and a lot of noise, so it is difficult to find time for that reflection and focus on what you really want to achieve as a researcher.
"When I first came to Scotland, I felt like a plant being pulled out of where it has been comfortable and I had to adapt.
"But when you adapt, you realise you have grown and bloomed in a way you didn't know you could."
During the initial six-month training at SAMS, the ECRs studied a range of seaweed-related topics, including the movement of invasive species, the genetic diversity of seaweeds and algal identification techniques. They also received professional skills training in publishing, oral presentation and media.
For the remainder of the four-year project, which is funded by UK Research and Innovation's Global Challenges Research Fund, the ECRs will continue to work with UK partners as they return to their respective home nations. They will each work with the industry and seaweed farmers, as they progress their individual projects.
GlobalSeaweedSTAR lead scientist Prof Elizabeth Cottier-Cook said: "The whole ethos of the project is to look at the sustainability of the seaweed industry as a global concern.
"Although we in Europe do not cultivate seaweed to the same levels as coastal nations in Asia and Africa, we are consumers of the products that rely on this industry. With the body of research on seaweed diseases and biosecurity being led by Europe and the practical expertise available in Asia, in particular, it makes sense to share knowledge across a global network.
"Coming to Scotland was a huge culture shock for our ECRs but they will return home with a new found confidence and an array of new skills that will help them meet a growing demand for quality seaweed research in their respective nations."