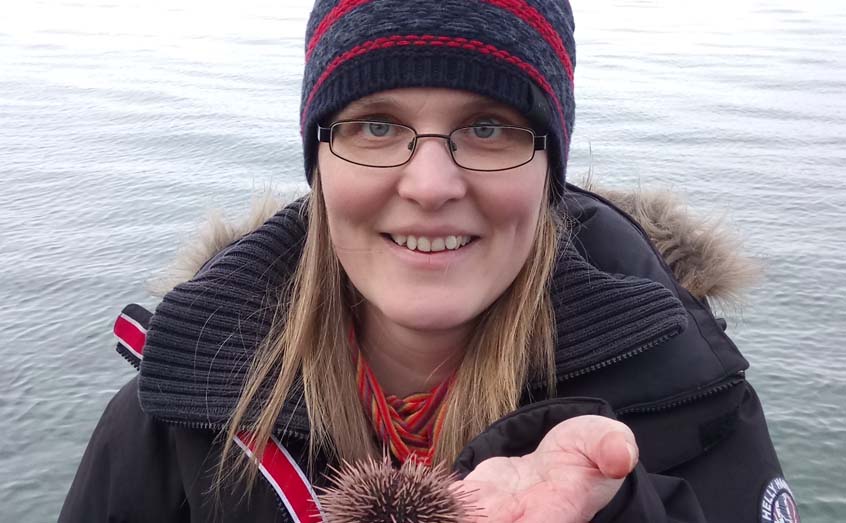 A group that exists to promote diversity and gender equality in aquaculture has today (Friday) appointed a SAMS UHI researcher to its advisory board, as it launches a new online forum.
Women in Scottish Aquaculture (WiSA) has selected Dr Helena Reinardy, a teaching fellow and researcher at SAMS UHI, as one of three new advisory board members.
Dr Reinardy, a marine biologist, helps to lead the Erasmus Mundus Joint Masters Degree in Aquaculture, Environment and Society, teaching students from across the globe. She is also a co-leader of SAMS' Dynamic Coasts research area.
She said: "WiSA always struck me as a very interesting network of aquaculture people in Scotland and I was delighted to accept an invitation to join the advisory group.
"The roles of the group are to provide advice and guidance on the direction and activities of WiSA. I am still new to it, but the opportunities and potential are very clear and I look forward to engaging more and being part of this support and outreach network."
WiSA's new online forum is designed to connect more than 300 members, promote diversity, and highlight the range of opportunities for women in the sector.
The digital forum has been funded by Marine Scotland and will provide a virtual space for members to connect with one another, access exclusive events, share career and training opportunities, and engage in discussions around diversity and inclusion in the sector.
The development of the online forum follows the success of a similar initiative by the Sustainable Aquaculture Innovation Centre (SAIC), which launched a collaboration hub for its consortium members in July. WiSA was founded in partnership with SAIC and launched on International Women's Day 2019 to celebrate the role of women in aquaculture, promote diversity and support career development.
Teresa Garzon, WiSA chair, said: "The launch of the digital forum is an important milestone for WiSA. More than ever, we have come to recognise the power and value of online connections and resources during the past 18 months. Our aim is to ensure that aquaculture companies continue to have access to a diverse talent pool that can help the sector to develop and grow, with equal opportunities for all."
The other new WiSA advisory board members are Donald Waring, learning and development manager at Mowi and Matilda Lomas-MacKenzie, biology and cleaner fish coordinator at the Scottish Salmon Company.