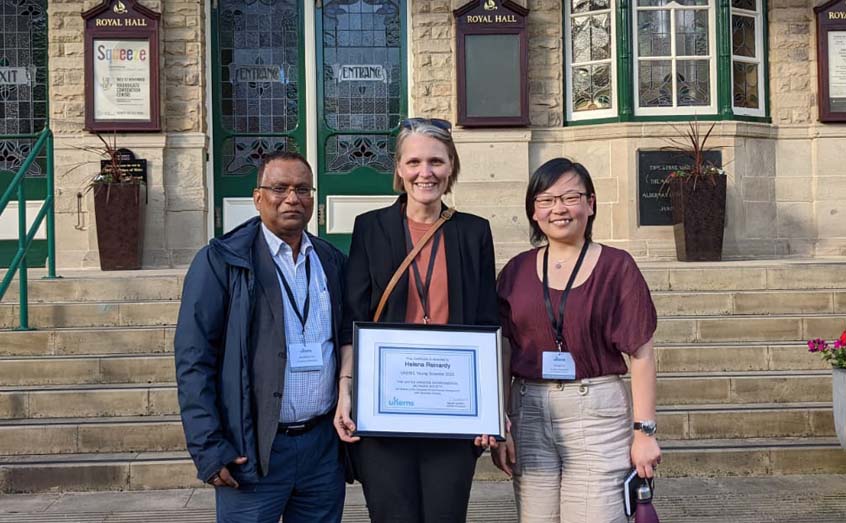 A SAMS scientist has won a national award at the UK Environmental Mutagen Society (UKEMS) annual meeting, marking a unique celebration for three researchers spanning three academic generations.
Dr Helena Reinardy collected the Young Scientist Award, a prestigious society prize that recognises her work from the past 10 years. The biennial award is presented to a UKEMS member who has made an outstanding contribution to the field of environmental mutagenesis.
Dr Reinardy also gave a lecture on 'Eco-genotoxicology and the implications of genetic impacts of contaminants in marine organisms' at the annual meeting held in the Royal Hall, Harrogate on July 4.
But the celebration was made all the more special when her former PhD supervisor from the University of Plymouth, Professor Awadhesh Jha, received the Jim Parry Award, the society's lifetime achievement award.
Later that day, Dr Reinardy's own PhD student Fengjia Liu, who is in her third year of studies at SAMS, won an award for her presentation poster at the meeting.
Dr Reinardy said: "I was extremely proud to have been presented with the Young Scientist Award but it was an extra special day to share success with my former supervisor and my own PhD student – success for three scientific generations!
"The UKEMS annual meeting is a great conference at which to meet up with old and new colleagues and friends and to share ideas in this constantly evolving area of research into environmental exposure, human cancer, and ecosystem genetic resilience."
A marine biologist and ecotoxicologist, Dr Reinardy has experience in biology of fish and marine invertebrates. For the past 10 years, she has researched the complex interaction between organisms and their changing environment.
She undertook her first post-doctorate position in the Bermuda Institute of Ocean sciences before cooling down in a second post-doc position in the University Centre in Svalbard, and finally returning to the UK and joining SAMS in 2018.
Her work involves studying climatic shifts such as increasing temperatures, reduction in pH, altered oxygen content in the ocean, as well as the presence of contaminants and pollutants, that make up multiple-level stressors affecting organisms in the ocean. She also has experience with a range of environmentally-relevant contaminants and stressors.
This work includes genetic and epigenetic changes to molecular toxicology, physiology, behaviour, reproduction, and survival, including the vulnerability and resilience of different marine species to DNA damage when exposed to contaminants and stressors in the water.
Working closely with partners and stakeholders from industry, governmental regulators, and national and international research sectors, she is also a University of the Highlands and Islands (UHI) lecturer in aquaculture and marine pollution. In addition, she is affiliated to the University Centre in Svalbard as an Associate Professor in the Arctic Technology Department.