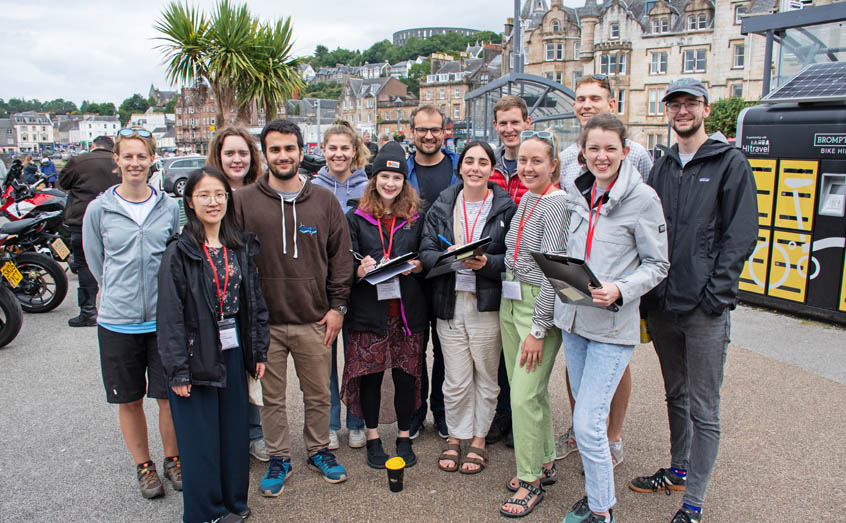 Engineering students on an award-winning academic programme have admitted to being out of their 'comfort zone' during training in social sciences at SAMS, during which they gauged public opinion on marine renewable energy.
The 12 Engineering Doctorate (EngD) students are part of the EPSRC-funded IDCORE (Centre for Doctoral Training in Offshore Renewable Energy) programme, a collaborative partnership between SAMS and the universities of Edinburgh, Strathclyde and Exeter.
During their fortnight in Oban, the students are working with social scientists and science communications experts at SAMS to learn about the social dimension of renewable energy.
Last Friday, they were on the streets of Oban, canvassing opinions on renewable energy projects.
Student Eve Andrews said: "We came to SAMS last year to learn about marine mammal interactions with renewable energy projects and this year we're hoping to get a broader perspective on the societal impacts.
"For us, it's a different way of thinking about things. As engineers, we want to develop renewable energy projects that have positive societal impacts, but until now we haven't had training on how to measure that.
"We're definitely out of our comfort zones; in engineering it's all about maths and what the numbers say, but in this type of research there is more than one way to do things."
Over the two-week module, the students are taking part in public surveys and had a field trip by boat, a tour of Oban and a series of lectures.
Dr Suzi Billing, a SAMS principal investigator in social science, co-ordinates the social science module for IDCORE. She said: "I think it has been a great challenge for the students to learn how to include different perspectives in their work and they have done a great job in trying to do that.
"For the public interviews in Oban, they devised their own surveys on the topic of renewable energy. They asked people for their perspectives on marine renewable energy and learned that it's not always positive and that people have conditions.
"People from different demographics and backgrounds will give different opinions, but you can't really understand that until you engage with the public."
To learn more about the IDCORE programme, visit: https://www.idcore.ac.uk/