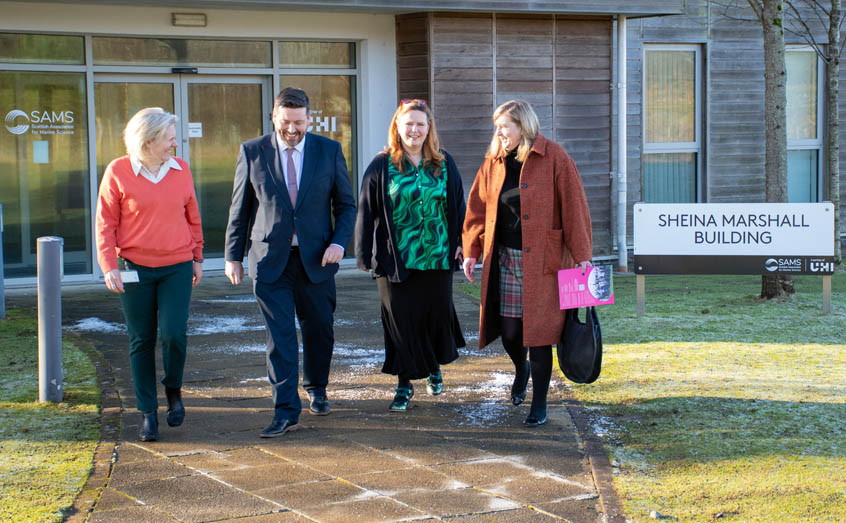 Scotland's Higher Education Minister visited SAMS to find out more about the institute's research and teaching, as well as an ambition to create an on-site ocean STEM hub.
Jamie Hepburn MSP was keen to learn more about the work of SAMS, a partner of UHI, in developing Scotland's blue economy, including research in aquaculture, seaweed cultivation and algal biotechnology.
As part of the visit last Friday, he toured the institute's teaching building and the Ocean Explorer Centre, where he also learned of ambitions to create a dedicated ocean STEM hub to increase ocean literacy in the area.
During discussions with SAMS Director Professor Nicholas Owens, Mr Hepburn heard of challenges with the availability of student accommodation.
Mr Hepburn said: "SAMS holds a unique and significant role in Scotland's higher education sector and it was very instructive for me to hear about the range of activity first hand from staff and students.
"The high-quality research work being conducted here and educational opportunities it provides for students underline why it is such an important asset for Oban and the west coast of Scotland.
"It was useful to hear about the issues around student accommodation and we are committed to working with key partners in the sector to improve accessibility and affordability."
"Our blue economy and marine sector will have a vital role to play in the Government's future strategy, underpinned by our ambition for transformative change in the way we see and use our oceans."
The MSP's tour of SAMS, a partner of UHI, was followed by a visit to UHI Argyll's Oban campus.
SAMS Director Prof Nicholas Owens thanked the minister for his visit, adding: "SAMS is at the forefront of research that helps to develop Scotland's blue economy and it was extremely helpful to be able to share some of that work with the minister.
"The minister was also receptive to the various challenges we face, including the availability of student accommodation in the Oban and Lorn area.
"As Scotland's oldest independent marine science institute, it is vitally important that we remain engaged with the Scottish Government to ensure we are developing our nation's blue economy in a sustainable way."
Find out more about studying at SAMS here.