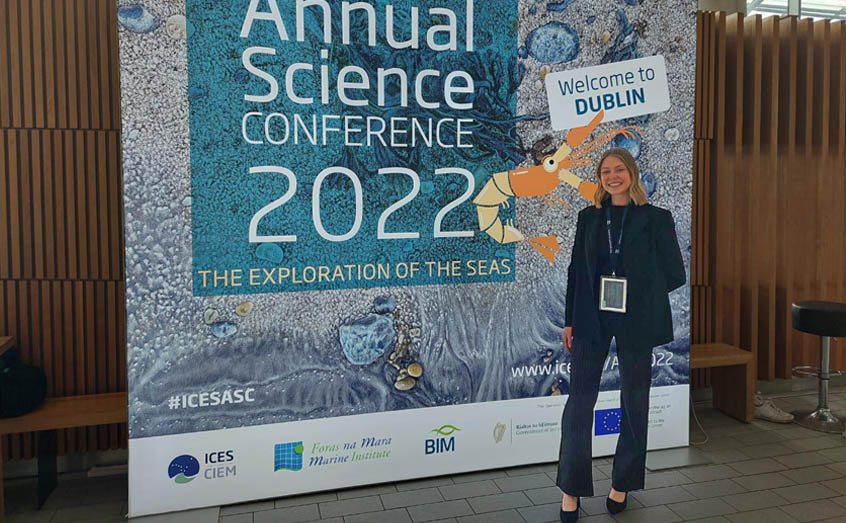 A third year student from Oban's Scottish Association for Marine Science (SAMS) has given her maiden research presentation to an audience of 500 international scientists at a major marine science conference.
Janne Bruhns was one of only two undergraduate students to present at the International Council for the Exploration of the Sea's (ICES) recent annual science conference, held in Dublin. ICES is an intergovernmental organisation providing impartial scientific evidence to meet societal needs.
Presenting the findings of her third year literature review, the 23 year old addressed a conference hall of seasoned researchers, as well as hundreds more online, on the impact of offshore wind development on fishery data collection.
Janne, who is studying a BSc in Marine Science at SAMS, a partner of UHI, said: "I was invited to share the findings I had come up with in my third year literature review, which happened to be on the same topic as one of the theme sessions of the conference titled 'Methodologies to assess the impact of offshore wind development on fishery data collections'.
"I was nervous initially but super proud, as our session was one of the most attended of the whole event and I was by far the youngest presenter in my session. My presentation and research topic, which summarized recent developments in the use of offshore robotics for fisheries assessments, were well received and generated a lot of discussion.
"It felt super encouraging to know that I had contributed to a relevant, yet novel, area of research and that others found the presentation insightful and wanted to discuss it further."
Janne, who is from Hamburg, Germany, said she felt an extra thrill to find out that many of the scientists from the EU and the US, whose work she had cited in her own report, were in the audience.
Janne's literature review addressed the problem of typical fish sampling tools, such as trawl surveys, not being permitted within offshore windfarms. As the scale of offshore winds builds up this will result in significant no-go areas where trawls likely cannot be used. This raises problems not only for the commercial fisheries but also for standardised fisheries surveys such as ICES' own International Bottom Trawl Survey series, which in the North Sea has been run since the 1960s.
Janne's review considered the extent to which emerging remote technologies such as unmanned surface and underwater vehicles might be capable of filling in the sampling gaps. She also raised the problem of how to combine data collected by traditional sampling and these emerging techniques.
Janne added: "I have to thank my literature review supervisor, Dr. Clive Fox, a million times over for encouraging me to submit my abstract and attend the conference in person. I wouldn't have believed myself qualified or ready on my own, but I walked away feeling so much more confident in my research and with a heightened sense of purpose and determination for my future career.
"I feel more motivated than ever to continue producing quality work in my fourth year and I hope to apply to the conference again next year. I am still so thankful for this opportunity coming so early in my career, and I would highly encourage other SAMS students to apply to conferences like the ICES annual science conference."
Dr Fox said: "Having an undergraduate student address an ICES conference in this way was highly unusual but Janne has consistently demonstrated her interest, enthusiasm, and commitment to marine science.
"I was delighted to be able to encourage her to attend and to be able to help attain the travel grants from ICES and SAMS to allow this to happen. ICES is increasingly focussing on supporting early career scientists and this was an excellent example of this in practice."
Have you thought about studying with us? SAMS is hosting an open day on October 28. Find out more here: Open Day — The Scottish Association for Marine Science (sams.ac.uk)