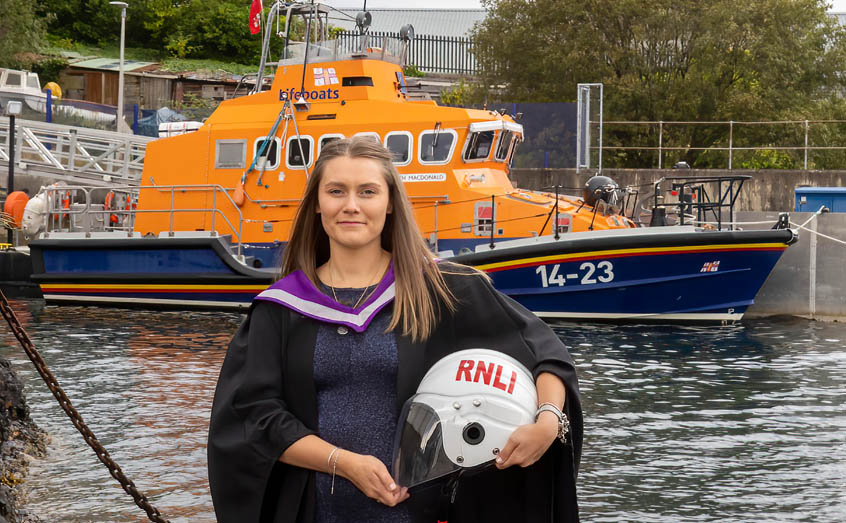 A SAMS student and member of Oban's volunteer lifeboat crew has been awarded a First Class Honours degree for her research into what happens under the waves – to the delight of her professor and fellow crew members.
Jasmin Manning graduated from the Scottish Association for Marine Science, a partner of the University of the Highlands and Islands (UHI), on Friday September 2, with a BSc (Hons) Degree in Marine Science with Oceanography and Robotics.
She said: "I grew up here but only when I was older did I realise how important the sea was to me.
"The decision to study marine science was triggered by diving Australia's Great Barrier Reef and realising that much of it had been destroyed by climate change.
"My dissertation involved using an autonomous underwater vehicle to map the seabed around shipwrecks off the north coast of Ireland to look at how the presence of structures on the seabed affect flow and transport of sediments – adding another piece to the jigsaw of our understanding of the ocean floor."
SAMS Professor Finlo Cottier – himself a deputy coxswain on the Oban lifeboat – says there has always been a strong link between SAMS and Oban's lifeboat.
"It's inevitable really, given the amount of time that SAMS staff and students spend on or in the water, either as part of their work or for recreation, that some of us should choose to volunteer with the RNLI.
"SAMS has supported staff and students to be members of the lifeboat crew for more than 20 years. Jasmin is the third volunteer and SAMS student to graduate.
"She has done exceptionally well over the last couple of years to balance the commitment to crew training, call outs and also her degree studies."
Oban RNLI Coxswain, Ally Cerexhe says the Oban crew is delighted with her achievement.
He said: 'The whole lifeboat crew, both seagoing and land-based, is a big family. Jasmin helps show the diverse mix of jobs, skills and backgrounds of that family's members. We're all really proud of what Jasmin has accomplished.'
Jasmin is now taking forward her commitment to ocean conservation with a job at SAMS Enterprise, the environmental consultancy at SAMS.
Have you thought about studying with us? SAMS is hosting an open day on October 28. Find out more here: Open Day — The Scottish Association for Marine Science (sams.ac.uk)