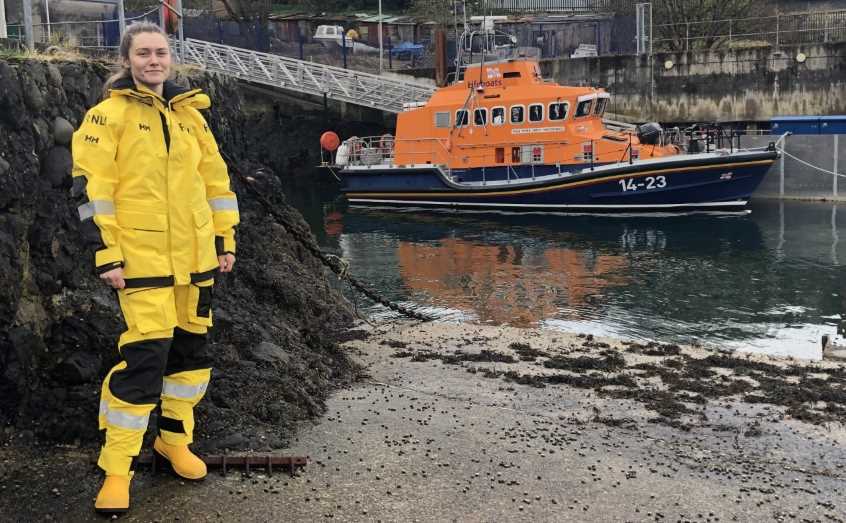 A SAMS UHI student, who recently became a crew member of Oban Lifeboat, had just finished an exam when she got her first emergency call out.
Jasmin Manning had only just turned her pager back on after sitting the end of semester marine conservation exam last Monday when she and her fellow crew were called to assist two people on board a yacht in a Force 8 gale.
The 32ft sailing boat had problems with its sails when a line snapped and was the boat unable to reach safety. The lifeboat arrived on scene in Loch Craignish and, after a crew member assisted those on board to secure the sail, the lifeboat escorted the yacht into Ardfern Yacht Centre.
Volunteering with the Royal National Lifeboat Institution (RNLI) Oban was a logical step for Jasmin, who grew up in the town, before moving to Glasgow aged 16. She also works in Oban's M&S store, which is supporting the RNLI.
She said: "I've always volunteered and I've recently been helping out with the Marine Conservation Society. I love being at sea and I love helping people, so the RNLI made sense for me."
A keen swimmer and diver, the 28 year old moved back to Oban three years ago to join SAMS UHI. She was attracted by the prospect of a marine science degree, specialising in Oceanography with Robotics.
While student life has been very different this past year, Jasmin says the marine science degree course has lived up to expectations.
"I wasn't sure about moving back to Oban, as most of my friends had moved away, but now I'm keen to stay. Studying here has changed my view of things and there's a nice community at SAMS UHI.
"The course has lots of practical, hands-on work, as well as the theory, and even when we've had online lectures this past year, the lecturers have made a real effort to make them interactive."
Prof Finlo Cottier of SAMS UHI is a deputy coxswain on Oban Lifeboat and recently attended his 300th callout. The volunteer crew is on call 24/7, 365 days a year and as a charity the RNLI is currently running a fundraising campaign, Mayday, to highlight the increase in emergency calls during the summer months.
Jasmin and Finlo are among the students and staff members at SAMS UHI who volunteer in the community through organisations including Oban Mountain Rescue Team and the Scottish Fire and Rescue Service.