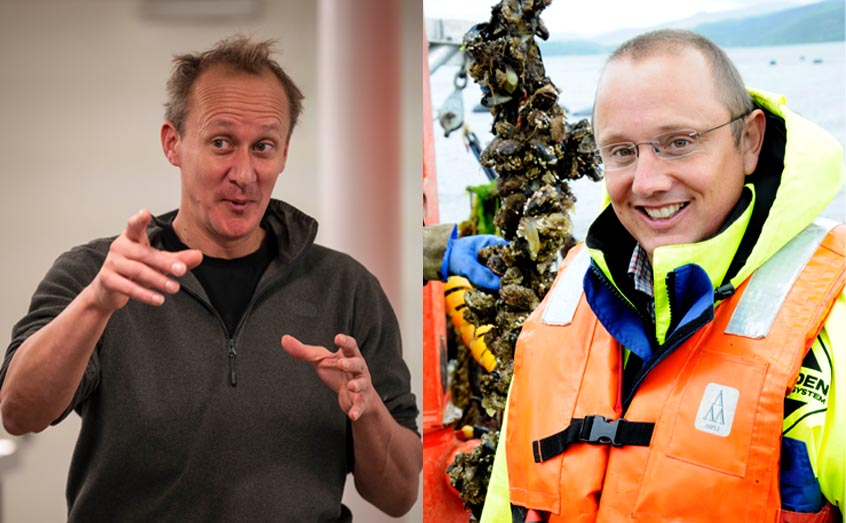 Two SAMS researchers have been made Readers by the University of the Highlands and Islands, in recognition of their work.
Dr Kim Last and Dr Adam Hughes, who have been at SAMS for 16 and 14 years, respectively, were each recognised with the academic title for consistently producing high-quality research, while teaching on the BSc Marine Science degree and supervising postgraduate students.
Dr Kim Last is a marine biologist with a focus on animal behaviour, particularly how human activities impact marine organisms. Recently, he has been investigating the effect of light sources – natural and man-made – on organisms in in the high Arctic during wintertime, when it is dark 24 hours a day.
He has led and collaborated on national and international projects, helping to secure over £8 million in research funding, and has published 55 papers in a range of academic journals. He has also provided independent expert advice to governmental and regulatory bodies, including the Department for Environment, Food and Rural Affairs and the Centre for Environment, Fisheries and Aquaculture.
Dr Hughes is a researcher and senior lecturer in sustainable aquaculture, focusing on the development of economically and environmentally sustainable production systems for marine animals and plants. His recent work has been looking at Scotland's emerging blue economy.
He was a UHI PhD student before taking up this role with SAMS in 2008 and he has since helped to secure over £5 million in grant funding for a range of international projects, many with industry partners. Dr Hughes has also published 52 journal papers and has provided expert guidance to the House of Commons' Environmental Audit Committee, the Scottish Parliament Rural Affairs Committee and the Climate Change and Environment Committee.
Commenting on his new title, Dr Last said: "My affiliation with SAMS and UHI has allowed me to conduct science in some of the most remote places on the planet, including the high Arctic. The research discoveries we make inform the teaching we can provide across UHI and it gives me great satisfaction to see our students go on to do great things in academia, policy and industry. In my new role, I will continue to guide others as they develop their research and teaching careers."
Dr Hughes said: "It is great to receive this recognition from UHI and to help further develop the blue economy in the Highlands and Islands."
Vicki Nairn, Interim Principal and Vice-Chancellor of UHI, commented: "The title of Reader is reserved for academic colleagues who have established distinguished international reputations in their research or scholarship. Dr Last and Dr Hughes have dedicated their careers to advancing our knowledge of the marine environment and its impact on global ecosystems. They are a credit to the UHI partnership and I am delighted their work has been recognised in this way."
Professor Nick Owens, Director of SAMS, added: "A Readership is only awarded to an academic who has a proven, sustained track record of original and high-quality research. The work produced by both Kim and Adam fits this description perfectly.
"As well as consistently delivering high impact published papers that create new knowledge about our marine environment, Kim and Adam lead research projects, supervise postgraduate students and teach on our BSc (Hons) marine science degree course. Their work directly influences policy at home and abroad and informs industry standards.
"They are a credit to SAMS, to UHI and to marine science generally, and I congratulate them both on their achievements."