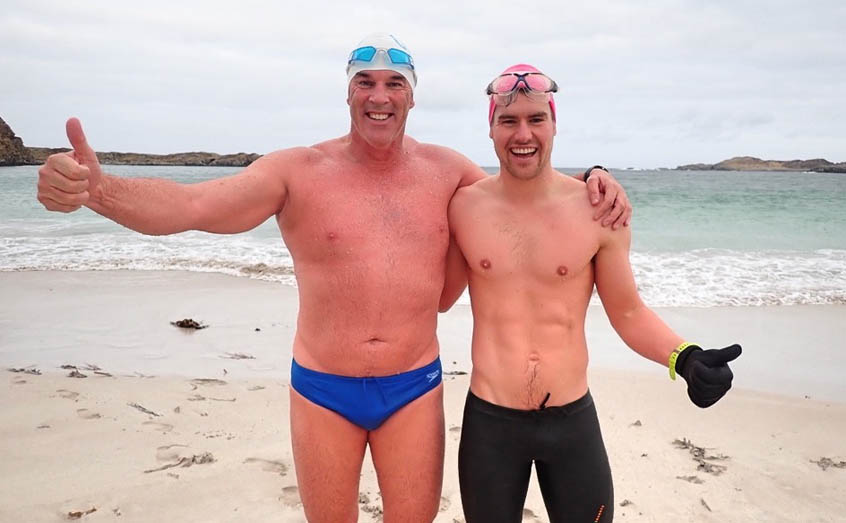 A super-fit marine scientist swapped the lab for freezing lochs as he helped endurance swimmer and environmental campaigner Lewis Pugh prepare for a challenge to swim across an Antarctic lake.
Dr Max Holloway, an oceanographer at SAMS, responded to a call to train with Lewis on the Scottish island of the same name over New Year. As a keen open water swimmer, former Olympic sailing coach and having previously conducted research on Antarctica, Max seemed the perfect fit.
The training was in preparation of Lewis' world-first attempt to swim across a supra-glacial lake in Antarctica. The endurance swimmer is now in Antarctica and has completed initial training swims. He said the training on Lewis was perfect preparation for his extreme challenge, adding: "Max was utterly exceptional. Period."
Lewis, who is the UN's Patron of the Oceans and renowned for swimming in icy waters in nothing more than his Speedo swimming trunks, cap and goggles, will swim where no human has swum before. His challenge will aim to highlight his call for the creation of a network of Marine Protected Areas (MPAs) around Antarctica. His previous campaigns have been instrumental in protecting over 2.2 million km2 of ocean, an area larger than Western Europe.
The extreme conditions of East Antarctica, which holds the record for the Earth's lowest recorded temperature, will ensure that this will be the toughest swim of Pugh's life. He will be faced with water just above 0°C, a severe wind-chill, and the threat of the lake suddenly emptying through a crack in the ice sheet.
Speaking after their training camp in the Western Isles from December 28 to January 7, Max said: "It was brilliant, but really tough. We had two sessions per day for 10 consecutive days, swimming and running for up to an hour at a time.
"This is the first winter I've trained without a wetsuit on but because I had been training on the west coast of Scotland anyway, I was fairly comfortable with the ocean temperatures off the Western Isles, whereas Lewis had come from training in warmer waters off South Africa.
"But as the week went on and we got into colder waters, Lewis was getting stronger and stronger as his body adjusted to the temperatures, so I think the training camp was successful.
"On the final few days we had some really rough conditions and in one loch the temperature was 4°C, while we contended with gusts of 75mph!"
During their 10-day training camp, Max was also able to share his knowledge of ice sheet stability on Antarctica and explained how climate change is impacting on the continent.
Under international law, 25 nations and the EU have to agree all measures to protect Antarctica. Currently there are three MPA proposals under consideration in the waters of East Antarctica, the Weddell Sea and around the Antarctic Peninsula. To date, all countries have agreed to the protection of the next MPA in East Antarctica, with the exception of Russia and China. Straight after his swim, Lewis will head to Moscow to hold talks with Russia's political leadership.
He said: "We are living in a time of drastic change. I have been swimming in the ocean for over 30 years and I have seen them change. I have no doubt that we are now facing a Climate Emergency. Ice is melting at an unprecedented rate at both ends of the earth."
Lewis was the first person to swim across the North Pole and the first person to swim the entire length of the English Channel. His is also the first person to complete a long distance swim in every ocean of the world.
His mission is to help to protect at least 30 per cent of the world's oceans by 2030.