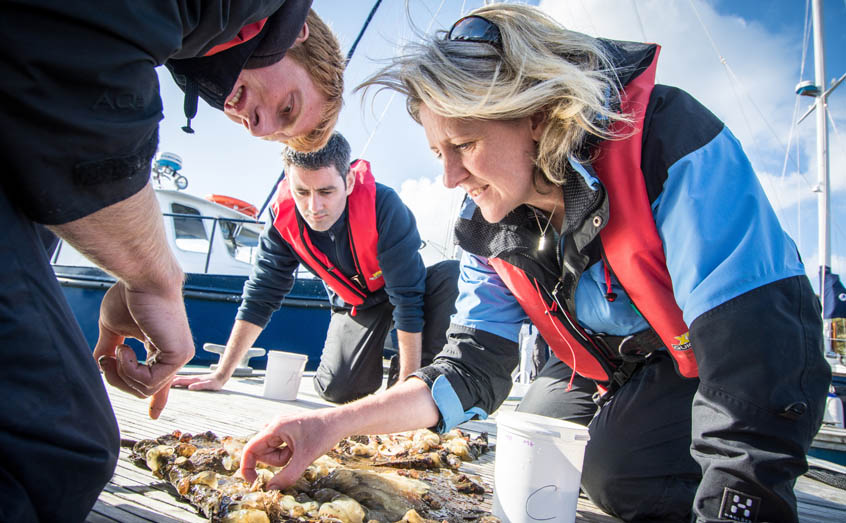 A marine biologist who established a European Joint Master's Degree in aquaculture has reason to celebrate on International Women's Day after becoming a prize winner at the Women in Scottish Aquaculture (WiSA) Awards.
Prof Elizabeth Cottier-Cook of the Scottish Association for Marine Science (SAMS), a partner of UHI, has today been presented with WiSA's Outstanding Contribution award in recognition of her teaching in aquaculture and her research contribution to the global seaweed industry.
The Erasmus Mundus Joint Master's Degree ACES-STAR teaches all aspects of aquaculture and allows international students to learn at centres in Oban, Crete and Nantes. The Master's Degree has awarded 126 scholarships to EU and international students since 2015, giving talented students from developing nations access to first-class academic teaching.
Prof Cottier-Cook has also been principal investigator on the five-year Global Seaweed STAR programme, which was funded by UK Research and Innovation's Global Challenges Research Fund and ended in 2022. The aim of the programme was to combine UK expertise in taxonomy, genetics and disease management with the knowledge and practical experience of seaweed farming in Africa and Asia to help safeguard the expanding global seaweed industry.
Seaweed farming is an important employer in many developing nations and is particularly key to empowering women, who make up the majority of seaweed farmers globally.
Along with the United Nations University and partners in the UK, Tanzania, Malaysia and the Philippines, Prof Cottier-Cook published an international policy brief that made recommendations on improving biosecurity and how best to protect the industry from the effects of climate change.
Prof Cottier-Cook said: "It was such a surprise to be told I had won the Outstanding Contribution Award, but I am also extremely honoured. It is important to celebrate the success of women in any STEM field.
"There is an increasing number of women working in aquaculture and it is interesting to note that in the eight years of our ACES Joint Master's Degree, women have made up roughly two-thirds of our students.
"Our GlobalSeaweedSTAR programme included some of the leading seaweed researchers in the world and all of the work package leaders were women. Considering many women are involved in the seaweed industry, it was nice to be able to reflect that in our research team."
Women in Scottish Aquaculture (WiSA) exists to introduce more women into aquaculture, and support those already working in the sector.
Heather Jones, Sustainable Aquaculture Innovation Centre CEO and WiSA founder, said: "Not only is Liz an inspirational scientist who is globally recognised for her work on invasive marine species, but also, she gives her time to initiatives such as the Athena Swan Charter, an important framework with potential to lead to more inclusive policies within higher education and research. The judging panel felt that from both of these aspects that Liz is a worthy winner of the Outstanding Contribution award.".
Prof Elizabeth Cottier-Cook's policy brief on 'Ensuring the Sustainable Future of the Rapidly Expanding Global Seaweed Aquaculture Industry – A Vision' can be viewed here: https://cris.unu.edu/sites/cris.unu.edu/files/PB21.06%20-%20GSSTAR_0.pdf
The Erasmus Mundus Joint Master's Degree ACES-STAR is a two-year programme studying in four centres of European excellence in aquaculture research. Students from across the globe gain practical and theoretical skills needed for a successful career in aquaculture through industry-led research programmes, internships and fieldwork. Find out more: https://www.emm-aces.org/