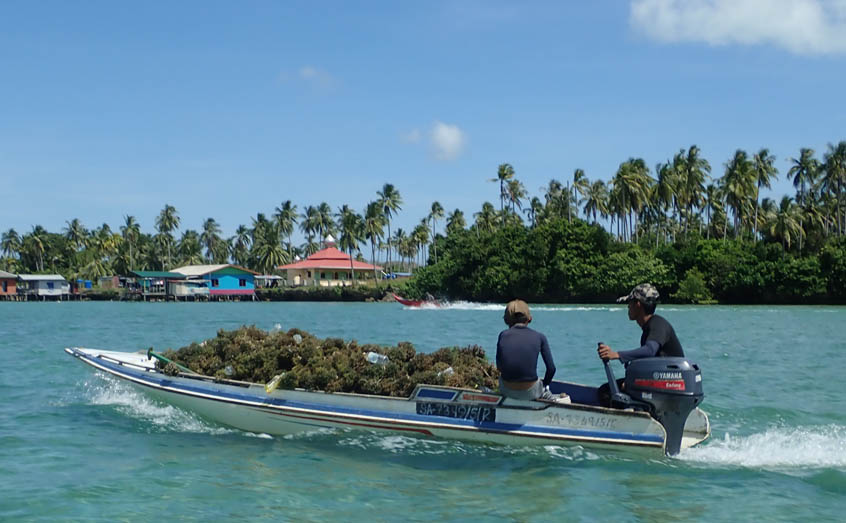 A group of world-leading seaweed scientists has warned that global wild stocks are at risk of disappearing unless urgent international protection measures are implemented.
In a policy brief published today https://cris.unu.edu/thefutureofourseaweedindustries by the United Nations University's Institute for Comparative Regional Integration Studies (UNU-CRIS), the research team highlights the significant reduction in native seaweeds in South-East Asia, where the seaweed industry supports millions of livelihoods.
The policy brief points to pest and disease outbreaks, as a consequence of climate change and over-harvesting, as the main causes of the decline in wild stocks. It calls for seaweeds to have the same protection status as other threatened marine features, such as coral reefs and mangroves.
The report's lead author, Prof Elizabeth Cottier-Cook from SAMS, said: "The world's wild stock of seaweed is not in a good state of health. Our seas – particularly in coastal areas where seaweed grows – are warming up and put simply, many seaweed species are unable to stand the heat.
Seaweeds occur in most coastal environments globally. They form one of the most productive marine systems, supporting a greater diversity of species than almost any other marine habitat. They provide a wide range of ecosystem services critical to the well-being of the ocean and mitigate the effects of climate change.
Demand for cultured, or farmed, seaweeds has grown exponentially over the past 50 years, as the seaweed industry has expanded to produce a wide variety of products, including food, animal feed and pharmaceuticals. The sector now accounts for more than 50% of total global marine production, which in 2019 equated to ~35 million tonnes with a value estimated at USD 14.7 billion.
Wild stocks provide the genetic diversity that seaweed farmers need to ensure the industry can adapt and survive as climate change alters conditions in the marine environment.
However, protection measures for wild seaweed stocks are lacking at national and international levels.
Prof Cottier-Cook added: "We recently mapped wild harvesting sites in Malaysia – one of the world's major seaweed farming nations – and compared those sites to the designated marine protected areas. We found that the majority of seaweed forests had no protection and as a consequence, we are seeing these wild stocks shrinking."
The research was conducted as part of the ASTEC (Innovative Seaweed Aquaculture) project led by Prof Juliet Brodie at the Natural History Museum in London and including SAMS and the University of Malaya. The project is funded by the UK's Department for Environment, Food and Rural Affairs (DEFRA) Global Centre on Biodiversity for Climate.
Prof Brodie, a co-author on the policy brief, said: "The conservation of seaweeds species and communities needs to be coupled with wild harvesting and seaweed aquaculture around the world if we are to secure the future of wild stocks, and ensure a future for the livelihoods of seaweed farmers."
Fellow co-author Prof Phaik Eem Lim said: "Conservation of the wild population of seaweeds is essential as continuous resources for development of new cultivars that are resistant to climate change and diseases for the sustainability of the seaweed aquaculture industry."
Prof Cottier-Cook previously headed up the five-year GlobalSeaweedSTAR research programme, funded by UK Research and Innovation, to look at ways of safeguarding the global seaweed farming industry. This included the discovery of new strains of seaweed that can better cope with warming waters and developing improved biosecurity procedures to help prevent the spread of disease and pests between crops.