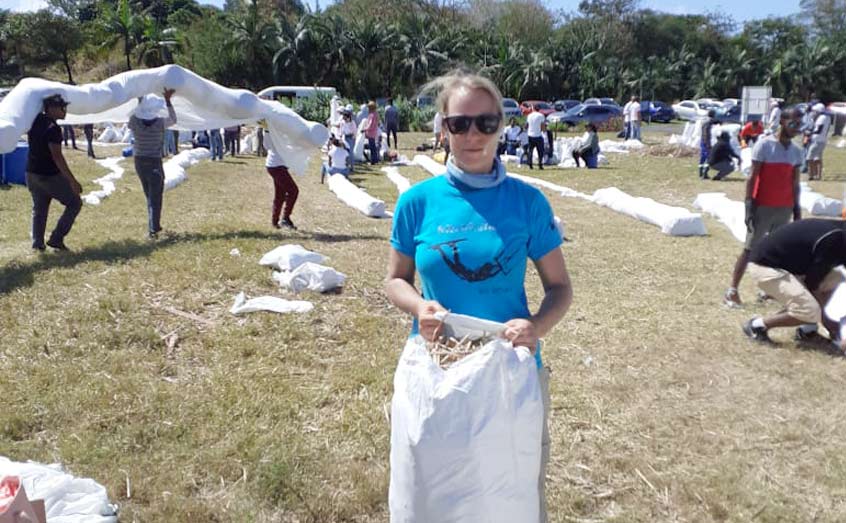 A British marine scientist based in Mauritius has described the ecological disaster that has gripped the island after volunteering to help stem the impact of the worst oil spill in the island's history.
Mauritius is still reeling from the effects of oil spilled from the Japanese-registered MV Wakashio. The freight ship collided with a coral reef off Mauritius on July 25 but only started breaking up 13 days later, releasing approximately 1,000 tonnes of oil and diesel into the sea, close to two protected UNESCO sites.
Dr Georgina Robinson of the Oban-based Scottish Association for Marine Science (SAMS), who works in Mauritius, joined fellow islanders in collecting sugar cane and even cutting her hair to help fill kilometres of booms to halt the spread of the oil. She also sought help from the British High Commmissioner Keith Allan and the UK Oil Spill Association and is currently liaising with biotech companies to source enzyme and microbial-based products that would accelerate the degradation of the oil and speed up the recovery of impacted coastal zones.
Dr Robinson said: "Mauritius is known for its beauty and incredible biodiversity, which attracts a lot of tourism, so this has been disastrous for the environment and for the island economy.
"The grounding of the Wakashio occurred in one of the sensitive marine areas in Mauritius. The nature reserve of Ile aux Aigrettes, a protected island that provides a sanctuary for some of Mauritius' rarest species of tree, birds and reptiles, was in direct line of the oil that started to flow from the ship on August 6. The mangroves and coastal zone along the south-east of Mauritius, including RAMSAR wetlands have been impacted. The environmental damages and impact on coastal livelihoods will be felt for years to come.
"There has been a huge response from NGOs, businesses and volunteers and I joined one of four boom production sites on the island. I was filling sacks with sugar cane straw that were packed into huge socks to soak up the oil with plastic drums and bottles for floatation. We were using anything that would soak up the oil. People were cutting their hair and donating that.
"The community response was amazing to see. Everyone just dropped what they were doing and came together, helping at a production site, or Crowdfunding for equipment. Mauritius is a real melting pot of nationalities and religions but came together as one nation in the face of this disaster."
Dr Robinson was last year identified as a rising star of UK research after gaining a prestigious fellowship for her work to address global food shortage by recycling waste from food production industries.
The UK Research and Innovation (UKRI) Future Leaders Fellowship will allow Dr Robinson to overhaul the current 'nitrogen cycle' process by which excess nitrogen in the form of animal waste from industries like agriculture and aquaculture is turned back into an inert gas and released into the atmosphere. Instead, Dr Robinson proposes a system that will recycle this waste by using it to feed sea cucumbers and marine worms – so-called deposit feeders – which can then be farmed as a high-protein food source for humans and livestock and may even be used to generate electricity.
The researcher said her own experimental work had been unaffected by the oil spill, although she remained concerned about the potential effect on a nearby fish farm related to her research.
While based in Mauritius, Dr Robinson will use her research findings to help the island develop its blue economy.