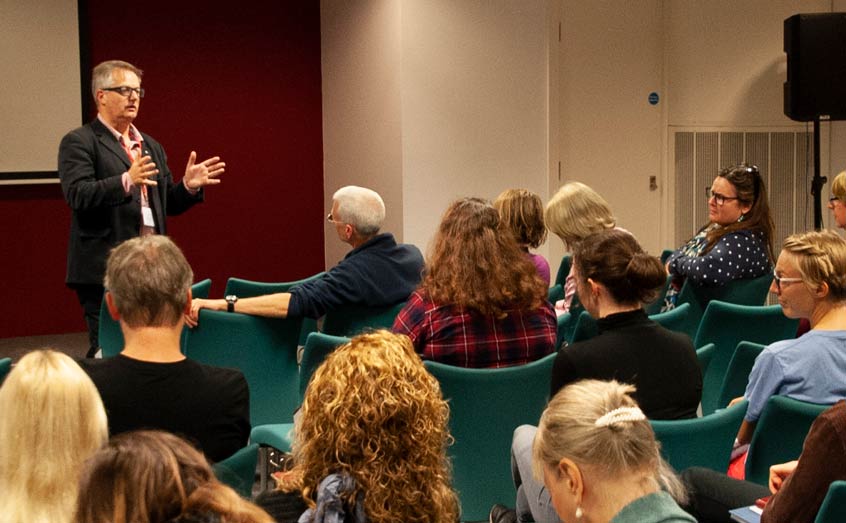 Argyll and Bute's MP has told staff at the Scottish Association for Marine Science (SAMS) that the potential effects of Brexit on his constituency would be 'catastrophic'.
Brendan O'Hara MP visited SAMS last Friday to explain his own stance on Brexit and answered questions from staff, many of whom are EU nationals living in Argyll and are fearful for their future.
Argyll and Bute faces a potential depopulation crisis when the UK leaves the EU. European migrants have boosted the numbers of working-age residents across the county, while helping to stabilise a declining population figure.
Of the 160 employees currently at SAMS, 20 are EU nationals, from 10 different EU countries. As of the end of the previous academic year, 27 of the 114 undergraduate students and 15 postgraduate students at SAMS UHI are from the EU.
Mr O'Hara said: "Scotland overwhelmingly rejected Brexit but we are cutting ourselves off from our friends and our allies; no good can come from this. The effect of Brexit in terms of Scotland would be disastrous but in terms of Argyll and Bute it would be catastrophic. We desperately need people like you to come and work here, to put down roots and to stay.
"Brexit cuts the legs from that ideal and we are in danger of becoming a retirement home for the rich and the elderly."
Describing the possibility of a no-deal Brexit as 'utter madness', Mr O'Hara told staff: "Sometimes I believe we've gone beyond an age of reason, so it is impossible to predict what is going to happen."
He added: "To those of you who are EU nationals, as far the Scottish Government and I are concerned, you are incredibly welcome here and we thank you for being here. We value your contribution, not just academically, but economically, socially and culturally.
"I will fight tooth and nail and do everything I possibly can to ensure your position in Scotland is not in any way threatened by the madness engulfing the UK at the moment."
SAMS Director Prof Nicholas Owens said: "We are grateful to Mr O'Hara for speaking to the staff with such honesty and frankness and it is heartening to know he is representing our considerable concerns over Brexit.
"All of our staff are understandably concerned about what the future holds but for our 20 staff members from the EU, many of whom have many years of service and have raised families here, this is a huge worry.
"SAMS is a fantastic place to work and a major employer in the area. We have benefited from being able to attract some of the very best marine scientists from around Europe. I hope that in a post-Brexit era we will be able to continue doing that."