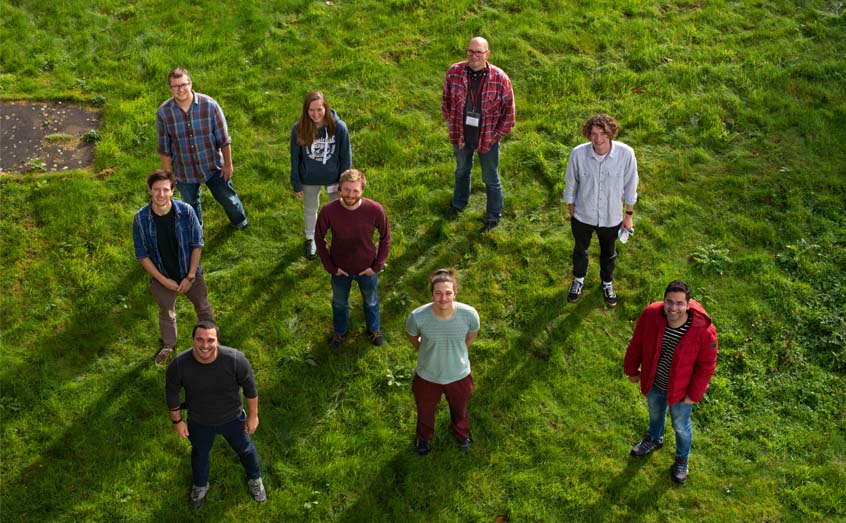 Postgraduate projects as diverse as marine mammal acoustics and the use of algae in space are underway at SAMS UHI following the arrival of a new student cohort this week.
The students arrived at the institute on Monday (September 29) to begin their studies and were welcomed by Head of SAMS UHI Graduate School Prof Bhavani Narayanaswamy.
The latest intake includes seven PhD and three Masters by Research students, coming from as far as India and Portugal. There are also two SAMS UHI BSc Marine Science graduates within the cohort: Lea Riehn and Alberto Rock.
Prof Narayanaswamy said: I am delighted to welcome the new cohort of postgraduate students to SAMS. The 10 students are undertaking a wide variety of exciting projects, ranging from using underwater vehicles to investigate the input of freshwater dispersal in the marine environment through to algae and space.
"The students come from across the globe, increasing the number of different nationalities represented in our postgraduate student community to 15. We also welcome back some former undergraduates of ours from the marine science degree."
Ruben Marques, from Leiria, Portugal will work on material development for global seaweed production as part of his PhD.
He said: Coming to SAMS is a huge step for me, as I have never left Portugal before now, but I am looking forward to studying at SAMS.
"It feels like a very good environment for study and Oban seems similar to where I am from. Having previously worked for a seaweed farm company, I look forward to continuing to develop work in this field."
Masters student George Mason, from Lincolnshire, was excited to start his project on the development of probiotics to enhance microalgae production.
"I have a friend who studies here and she has told me about the close-knit community," he said. "Everyone seems very open with their research and people are keen to work together, so I can't wait to experience that kind of study environment."
The new PhD students and their respective projects are as follows:
Chester Sands – Elucidating the evolution and diversity of the Southern Ocean ophiuroids with reference to present day ecosystem management
Adam Francis – Controls on nitrogen fixation in the subtropical North Atlantic Ocean and the Mediterranean Sea
Ruben Marques - Material development for global seaweed production
Lea Riehn – River Robots: Utilizing novel autonomous technologies, observations and models to investigate freshwater coastal dispersion
Angus Taylor – Multistressor impacts of ocean acidification and on warming on regeneration and biomineralisation in coastal sea urchins
Tim Awberry – Minke whale acoustic and foraging ecology to underpin MPA-based conservation
Victoria Ashley Wheeler – Assessing benthic recovery following cessation of salmon farming using eDNA metabarcoding
The new MRes students and respective projects are as follows:
Yash Pardasani – Algal dormancy and revivability in space
George Mason - Development of probiotics to enhance microalgae production
Alberto Rock – Engineering metabolic pathways in microalgae for high value lipid production