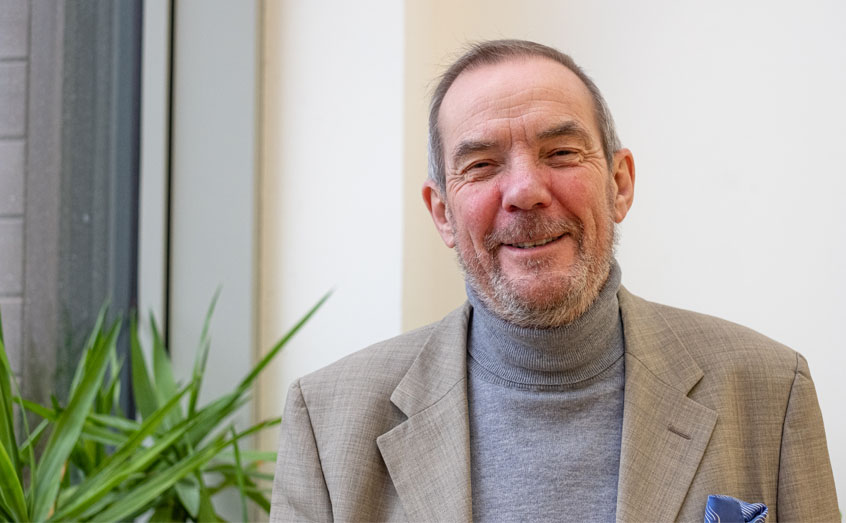 SAMS Director Prof Nicholas Owens has been appointed as one of the scientific experts tasked with advising the Scottish Government.
He joins the Scottish Science Advisory Council (SSAC) this month, after being appointed as one of its 12 new members, and will serve on the expert panel for three years.
The SSAC supports the Chief Scientific Adviser for Scotland in her work with Scottish Ministers and provides independent advice to inform policy development and delivery across all areas of the Scottish Government's work.
Prof Owens said: "I am honoured to have been appointed to the Scottish Science Advisory Council, which has a significant role to play in informing Scotland's scientific needs and priorities.
"I think it is a particularly important time to have ocean sciences strongly represented in the membership of the council. Not only do our seas face several threats from climate change, pollution and human activity, it is also important that Scotland maintains its heritage of marine science discovery. It is 150 years since the launch of the Challenger Expedition, the first oceanographic cruise of its type, which was led by Scottish scientists and laid the foundation of what the world calls oceanography."
Commenting on the new appointments, SSAC Chair Professor Maggie Gill said: "Our new members and associates bring a wealth of expertise and experience to the SSAC, putting us in a strong position to provide expert science advice across a broad range of areas, adding value to the Scottish Government's work."
The SSAC supports the work of the Chief Scientific Adviser Scotland, Professor Julie Fitzpatrick, the Chief Scientist (Health), Professor Dame Anna Dominiczak, and the Chief Scientific Adviser for Environment, Natural Resources and Agriculture, Professor Mat Williams, all of whom are also ex-officio members of the SSAC.
The other new members are: Professor Louise Horsfall (University of Edinburgh – biotechnology), Professor Martyn Pickersgill (University of Edinburgh – sociology of science and medicine), Professor Bruce Whitelaw (Director of the Roslin Institute, University of Edinburgh – animal biotechnology), Professor Melanie Simms (Dean of Research, University of Glasgow – social sciences), Dr Graham Kerr (Technical Director, CENSIS Innovation Centre), Dr Catherine Elliott (Director of Research and Partnerships, Cancer Research UK Professor Lisa Boden (University of Edinburgh – population medicine and veterinary public health), Professor Murray Roberts (University of Edinburgh – marine biology and ecology), Dr Kate Donovan (deferred start of appointment 1 December 2023) (University of Edinburgh – climate change risk and adaptation).
The new Associate Members are: Dr Mariana Garcia Criado (University of Edinburgh – biodiversity conservation) and Dr Connor Blair (University of Glasgow – cardiovascular health).
SAMS oceanographer Prof Mark Inall, who is currently Director of the Scottish Alliance for Geoscience, Environment and Society (SAGES), will step down as a member of the SSAC at the end of 2022 when his three-year term comes to an end.
Details of other members of the SSAC can be found on the SSAC website: http://www.scottishscience.org.uk/members
The next meeting of the SSAC will be on December 13, 2022.