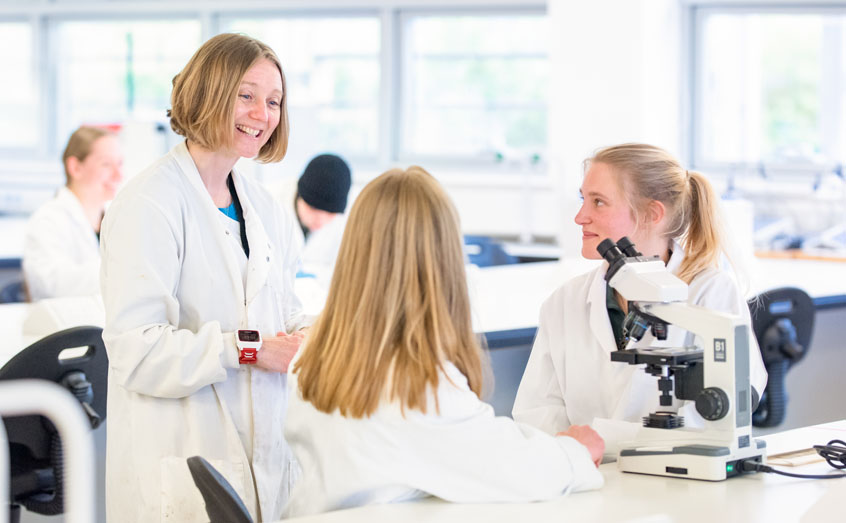 The BSc (Hons) Marine Science degree course at the University of the Highlands and Islands (UHI) has recorded a 100% satisfaction rating in the recent National Student Survey for the third consecutive year, with standout scores for teaching and student support.
In the annual UK survey, which allows students the chance to give feedback on their course, the BSc (Hons) Marine Science had among the highest ratings in Earth and Marine Science subjects for teaching, assessment and feedback and academic support.
Students on the degree course based at SAMS, a partner of UHI, also said they felt part of a community of staff and students and were always able to contact staff when they needed to.
Prof Keith Davidson, Associate Director for Education at SAMS, said: "To have achieved an overall student satisfaction score of 100% for a third year in a row is testament to the incredible work of our staff.
"But the results also highlight a valued part of the student experience on our degree programme: a supportive community that encourages the individual to thrive. This ethos has been more important than ever, as our students re-adjust to life post-lockdown.
"The vast majority of our students are not from the local area and being a distance from home can be difficult, so we work hard to support them, personally and academically, throughout their time with us."
The National Student Survey score followed on from the Guardian University Guide 2022, which ranked UHI as 1st in Scotland and 3rd in the UK for Earth and Marine Sciences.
The BSc (Hons) Marine Science at SAMS combines world-class teaching with unrivalled fieldwork and practical experience and also offers students the chance to study in the Arctic, or to specialise in marine robotics.
SAMS Director Prof Nicholas Owens said: "We are proud of the quality of teaching offered on the degree course, as our lecturers are active researchers and are among the leaders in their respective fields of science.
"But we also place a great importance on the welfare of our students, especially when many of them are leaving home for the first time after two very difficult years caused by the Covid-19 pandemic. Our small class sizes allow us to focus more on the individual and I am therefore delighted to see that reflected in student feedback, via the National Student Survey."
There is still time to apply for our September 2022 intake. Click here to find out more about studying at SAMS, the #UniversityOnTheBeach.