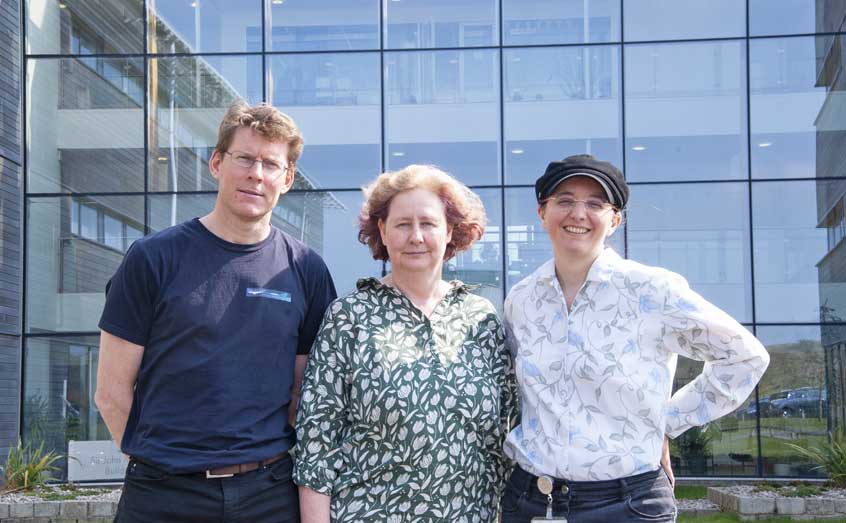 Three leading researchers at the Scottish Association for Marine Science (SAMS) UHI, Oban have received academic promotions from the University of the Highlands and Islands.
Michele Stanley and Finlo Cottier each received the title of Professor, while Claire Gachon has been awarded the title of Reader.
Prof Stanley, who is originally from Bangor, Northern Ireland, is a biochemist and molecular biologist who is internationally renowned in algal biotechnology research.
Currently SAMS UHI Associate Director of Science, Enterprise and Innovation, she joined the institute in 2006 and has become a leading international expert in the area of blue biotechnology, which seeks to address issues around food and energy security, water availability, ageing populations, increasing carbon dioxide levels and climate change.
Prof Stanley said: "It has been a privilege to see how SAMS and the wider university have developed over the past 13 years. I am proud to have been a part of it and now to receive a university professorship.
"Algal biotechnology, as part of the Blue Growth agenda, is an exciting research area and I look forward to developing SAMS UHI's capabilities in this sector."
Prof Cottier has been part of the SAMS UHI education team since 2001 and has gone on to become one of the UK's foremost Arctic researchers. Already a professor at The Arctic University in Tromsø, Norway, he currently leads the £2m international Arctic PRIZE project, observing how climate change is affecting the region.
Originally from the Isle of Man, Prof Cottier has been instrumental in setting up new streams within the core SAMS UHI BSc Marine Science degree, allowing students to specialise in Arctic Studies or Oceanography and Robotics. His wife, Elizabeth Cottier-Cook is also a SAMS UHI professor.
Prof Cottier said: "I am delighted to be recognised by the University of the Highlands and Islands with this title. I've been fortunate to be part of the growth of the university over the last 18 years and I've been able to pursue a career in research and teaching whilst at SAMS UHI.
"I've also been fortunate to work alongside fantastic colleagues in Scotland and further afield, particularly my close colleagues at The Arctic University in Tromsø, Norway."
Dr Gachon is from Nancy, France but recently attained British citizenship and has been at SAMS UHI since 2006, during which time she has helped to develop the laboratory infrastructure at SAMS UHI. She is a leading light in the £6m GlobalSeaweedSTAR project, supporting seaweed farming in the developing world.
Leading a strong, international research team within SAMS UHI, Dr Gachon studies the genetics of seaweeds. Her work to develop seaweeds with stronger immune responses will benefit seaweed crops globally, which are at risk from disease.
Dr Gachon said: "I am extremely pleased to have had my research, and the work of my team, recognised by the university. Working at SAMS UHI allows scientists the freedom to shape their own research and allows the institute to punch well above its weight in the international arena."
SAMS UHI Director Prof Nicholas Owens welcomed the appointments, adding: "The awarding of these titles is just reward for the commitment that Michele, Finlo and Claire have given to SAMS UHI and to marine science generally.
"All three consistently deliver high quality science that has importance for research, education and industry and are recognised as leaders in their areas of expertise.
"They also have leadership qualities that will ensure our science team continues to thrive and that the early career scientists and students at SAMS UHI have role models to aspire to."
Professor Clive Mulholland, Principal and Vice-Chancellor of the University of the Highlands and Islands, said: "Professorships and readerships are reserved for academics with distinguished international reputations in their field. Michele, Finlo and Claire have made significant contributions to our understanding of marine science and are a credit to SAMS UHI and the university. We are delighted to recognise their expertise and dedication in this way."