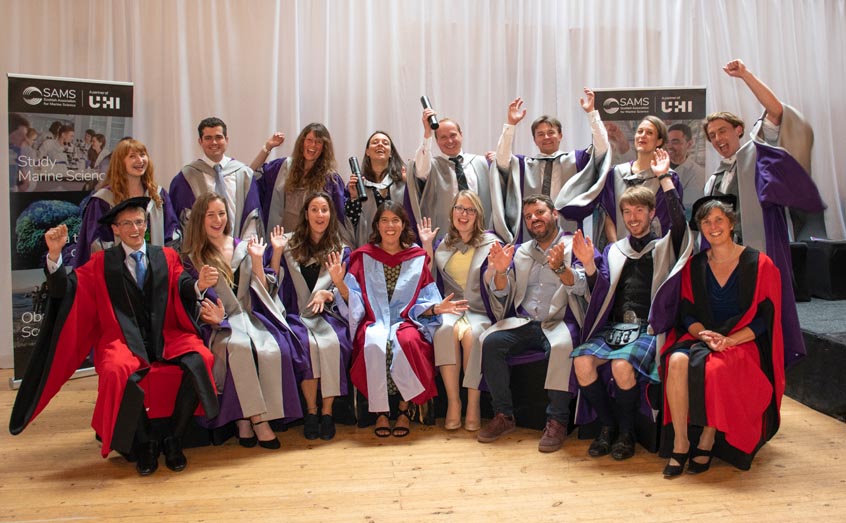 A record number of postgraduate students at this year's SAMS graduation ceremony has demonstrated the growing reputation for research at UHI.
SAMS is a partner of UHI, one of the UK's newest universities, which gained its research degree awarding powers in 2017. Former SAMS PhD student Winnie Courtene-Jones was awarded UHI's first PhD in 2019.
Just three years on, 15 PhD students attended the SAMS graduation last Friday in Oban to collect their doctorates. This included a record 11 PhD students who completed their studies in the past year and four who missed an in-person graduation in the previous two years because of the Covid-19 pandemic.
Prof Bhavani Narayanaswamy, Head of SAMS Graduate School, said: "I was delighted to see a record number of PhD students who have completed their research projects in the past three years, many of them overcoming the impacts of having to work in relative isolation.
"This is testament to their sheer determination, as well as the support provided by their supervisors.
"Seeing so many postgraduate students in UHI robes at graduation really demonstrated to me how far our postgraduate research has come in a short space of time."
PhD students gaining their doctorates at SAMS graduation covered a variety of marine science expertise, with doctorates awarded in topics as diverse as microplastics, microalgae, marine mammals, the Arctic, marine renewables and aquaculture.
Last month UHI recorded a 95% postgraduate student satisfaction rating in the National Student Survey, the highest rating in Scotland and fourth highest in the UK.
Prof Neil Simco, UHI Interim Deputy Principal (Tertiary and Research), said: "It is fantastic to see record numbers of our students graduating with PhDs from SAMS.
"Milestones like this, along with our recent success in the Research Excellence Framework review, are testament to UHI's developing research capacity across a broad range of areas. They demonstrate how UHI continues to underpin economic activity in our region.
"We are making a real difference to our environment, to the business community and to people's lives - not just in our communities, but across the world."
Have you thought about studying with us? SAMS is hosting an open day on October 28. Find out more here: Open Day — The Scottish Association for Marine Science (sams.ac.uk)