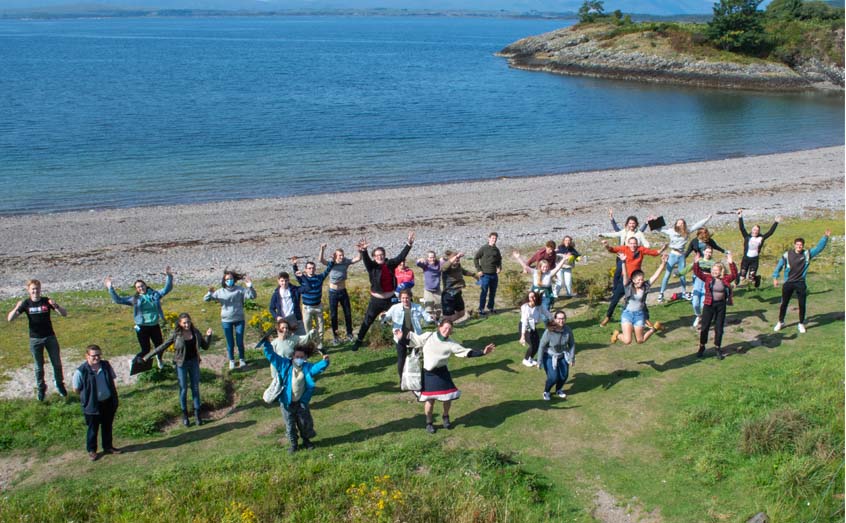 In a year once again dominated by the devastating Covid-19 pandemic, SAMS did have reasons to celebrate.
At the turn of the year, Christine Campbell from Bonawe, the manager of our Culture Collection of Algae and Protozoa, was awarded the MBE for her work in the algae collection. Christine retired at the end of March as the longest-serving current member of staff, having clocked up 35 years at the institute.
Seaweed served up many successes at SAMS in 2021. In May, a £150,000 project to expand and commercialise the seaweed nursery at SAMS secured £75,000 investment from Highlands and Islands Enterprise (HIE). Then, in November, SAMS secured a £400,000 grant from the UK Government's Community Renewal Fund to set up the Seaweed Academy, offering advice to start-ups, training workers and sharing the latest research to help develop a seaweed cultivation industry for the UK and beyond.
Research and development into the UK's fledgling seaweed farming industry also helped our commercial arm, SAMS Enterprise, to two awards: the Scottish Council for Development and Industry's (Highlands and Islands) Ocean Winds Award for Excellence in Marine Innovation and Growing the Blue Economy and the VIBES Scottish Environment Business Award.
Meanwhile, Prof Elizabeth Cottier-Cook, was selected to join the Safe Seaweed Coalition, a global group of experts established to support farmers of seaweed, a crop that some academics regard as the greatest untapped resource on the planet. Prof Cottier-Cook also leads the £5m GlobalSeaweedSTAR programme, which in November published an international policy brief on safeguarding the industry that is being considered at United Nations level.
SAMS' varied marine science research presented a number of discoveries in 2021.
Our biologists learned that microscopic marine zooplankton have an aversion to light that helps them avoid predators, while our ocean modellers calculated 120 years of data showing the strength of a massive Atlantic Ocean current that dictates much of our climate, potentially improving climate change predictions.
In June, we published a paper showing how the cumulative sound from Acoustic Deterrent Devices – used to deter seals from fish farms – may have had unintended consequences for other species, such as harbour porpoises, and SAMS researchers developed a way of creating 'designer' algae that could signal a breakthrough in how shellfish larvae can be produced for the aquaculture industry.
In August we used marine robotics as our scientists took measurements at the face of an Arctic glacier in Ny Ålesund, Svalbard, a task deemed too dangerous for humans because of falling ice.
Our researchers also won individual honours: marine geologist John Howe, one of four scientists who established the BSc marine science programme 21 years ago, was awarded a professorship from the University of the Highlands and Islands and Prof Michael Burrows was ranked 180th on the 'Hot List' of 1,000 most influential climate scientists compiled by the Reuters news agency.
Our busy education team welcomed students back on campus in September after more than a year of virtual learning. In the same year that the University of the Highlands and Islands marked its 10th anniversary, marine science teaching at SAMS UHI was rated among the best in the UK following the publication of two student surveys and The Guardian University Guide for 2022.
The university's Wind and Wave Club, which is based at SAMS UHI, won Sports Club of the Year in this year's Highlands and Islands Students' Association (HISA) Awards for the third year running.
For the first time in its 21-year history, the annual SAMS Newth Lecture was a virtual event, as people from around the world tuned in to a live broadcast.
Presentations came from from Prof Martin Visbeck, GEOMAR physical oceanographer; Dr Hannah Grist, SAMS citizen science expert; Prof David Paterson, MASTS executive director; Michael Russell, President of the Scottish National Party; Susan Davies, Scottish Seabird Centre CEO; and Prof Nicholas JP Owens, SAMS Director. All the speakers addressed the question of how Scotland could play its part in the UN Decade of Ocean Science for Sustainable Development.
Towards the end of the year, nine SAMS scientists were involved with the COP26 summit in Glasgow. Among them was Dr Max Holloway, who was one of 14 observers allowed in the exclusive 'blue zone' as part of the Marine Alliance for Science and Technology Scotland (MASTS) delegation.
There was sad news this year with the deaths of two former members of staff. Dr John Gordon OBE, from Seil, was one of the world's foremost researchers in deep sea ecology and remained a SAMS Fellow until his death on June 3. We also mourned the passing of former SAMS project manager Adrian Beard MBE. Both men are remembered at SAMS with great fondness.