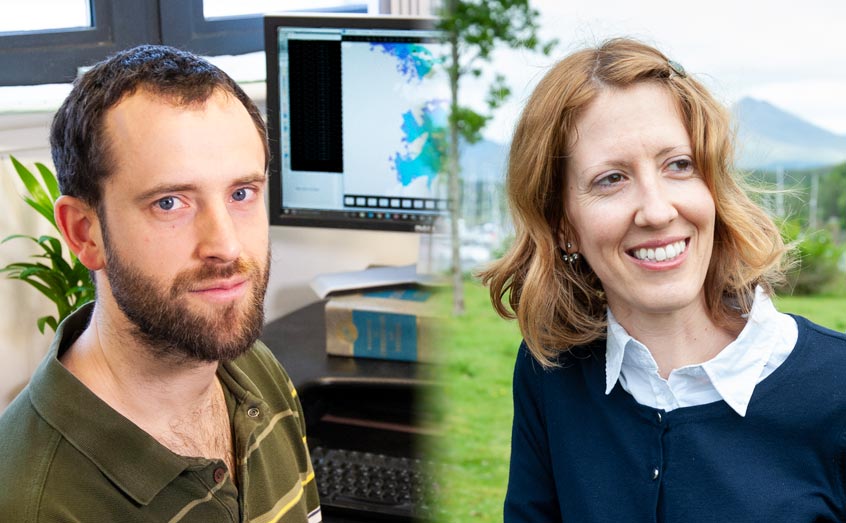 Experts in ecological modelling and algal biotechnology have been appointed to leading roles within the research community at the Scottish Association for Marine Science (SAMS).
Drs Tom Adams and Lucie Novoveska have taken up posts as co-leaders (CoRALs) within the Dynamic Coasts and Blue Economy research areas, respectively. Along with the Ocean Systems group, the three research areas encompass the varied fields of study ongoing at SAMS, encouraging collaboration within the organisation and identifying research opportunities for scientists.
Dr Adams' current work makes use of computer models of biological and physical processes, mainly to investigate the environmental impacts and interactions of aquaculture in Scotland's west coast environment. This includes the dynamics of sea lice, deposition of wastes, and spatial management of farms. He is also involved in a range of other projects looking at coastal ecosystems, including kelp forests and the management of Marine Protected Areas (MPAs).
He succeeds Dr Clive Fox, who is stepping down after helping to establish the research areas 18 months ago.
Dr Adams said: "Joining the CoRAL team is a great opportunity to contribute to the scientific direction of SAMS, and help to develop capacity and respond to opportunities in key areas. I have a particular interest in developing SAMS' work to support understanding of primary production (macroalgae and plankton), and improving our management of human impacts on the marine environment."
Dr Novoveska is a senior researcher in algal biotechnology and previously worked in industry. Her research interests range from using microalgae for wastewater treatment to sustainable production of high value compounds.
She takes over from Dr Sally Rouse, who recently left SAMS to lead an environmental advisory team on offshore energy at Marine Scotland Science.
Dr Novoveska said: "I am very excited to join the CoRALs and contribute to the Blue Economy research area. I hope I can apply my experience from industry and offer entrepreneurial view, helping to shape the SAMS strategy.
"I would like to increase our microalgae production volumes and contribute more to the Culture Collection of Algae and Protozoa. I feel like SAMS is a unique powerhouse with so much expertise in-house, so I would like to expand on connecting people internally as well as externally."
Prof Ben Wilson, Associate Director for Research at SAMS, said: "I'm delighted to welcome Lucie and Tom onto the Research Area team. They will bring with them their own distinctive strengths and inject new ideas into the already positive mix.
"Working with the others, I have no doubt that they will scout for new research opportunities, motivate teams and represent research interests at internal and Board level discussions.
"Thank to Drs Sally Rouse and Clive Fox for their previous contributions along with the rest of the CoRAL team for so successfully getting the Research Area concept at SAMS up and running."