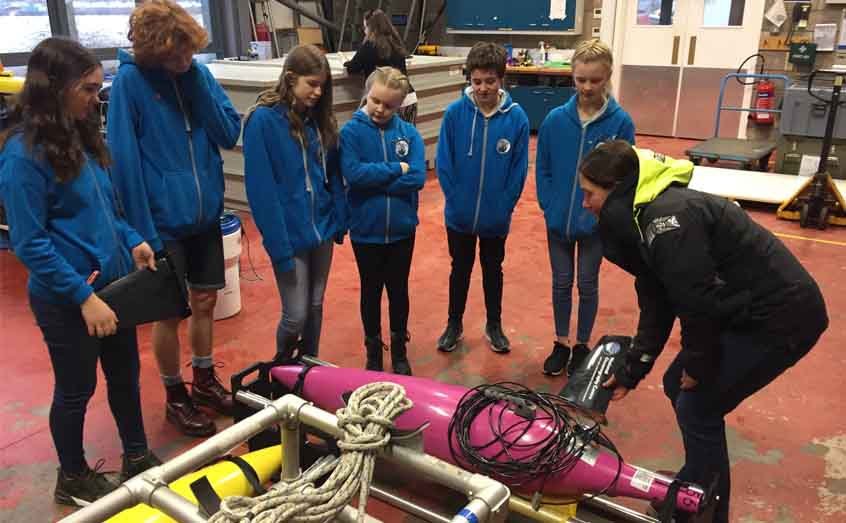 Young marine conservationists who hit the headlines after discovering a SAMS robotic glider in their home village have visited the institute to learn more about marine science.
The Ullapool Sea Savers made national news in January when they saw the glider, an autonomous underwater vehicle used by oceanographers, on board a fishing vessel in Ullapool harbour. Their enthusiastic social media posts and appeal to find out more information caught the attention of newsdesks.
SAMS subsequently invited the group to visit the institute in Oban to learn more about autonomous underwater vehicles and marine science generally. As part of the tour on February 28, the children took part in an Arctic exploration workshop.
Janis Patterson, an adult leader with the group, said: "Getting invited to visit SAMS not only provided the kids with answers to questions about the underwater vehicle they saw in Ullapool Harbour, but provided a wealth of new information about the amazing work SAMS do - possibly inspiration for some of them to come back in the future!
"A huge thanks to everyone that made them so welcome over the course of this wonderful day!"
The glider found in Ullapool, named Denebola, was deployed in June last year between the isles of Barra and Coll. It journeyed to a location in the north-east Atlantic and made 1,030 dives to depths of 1,000m, collecting ocean measurements such as temperature, salinity oxygen levels.
The glider was returning to where it could be collected when it began losing power in strong currents. The glider pilots at SAMS decided to call it in early and arranged for a nearby fishing vessel to collect it and take it to Ullapool for collection.
SAMS' head of communications, Dr Anuschka Miller, hosted the Sea Savers on their visit to SAMS and was thrilled by their enthusiasm. She added: "It was heartening to meet young people who are so passionate about their marine environment. It was a delight to host them at SAMS and we hope to see them again in the future, maybe even as marine scientists!"