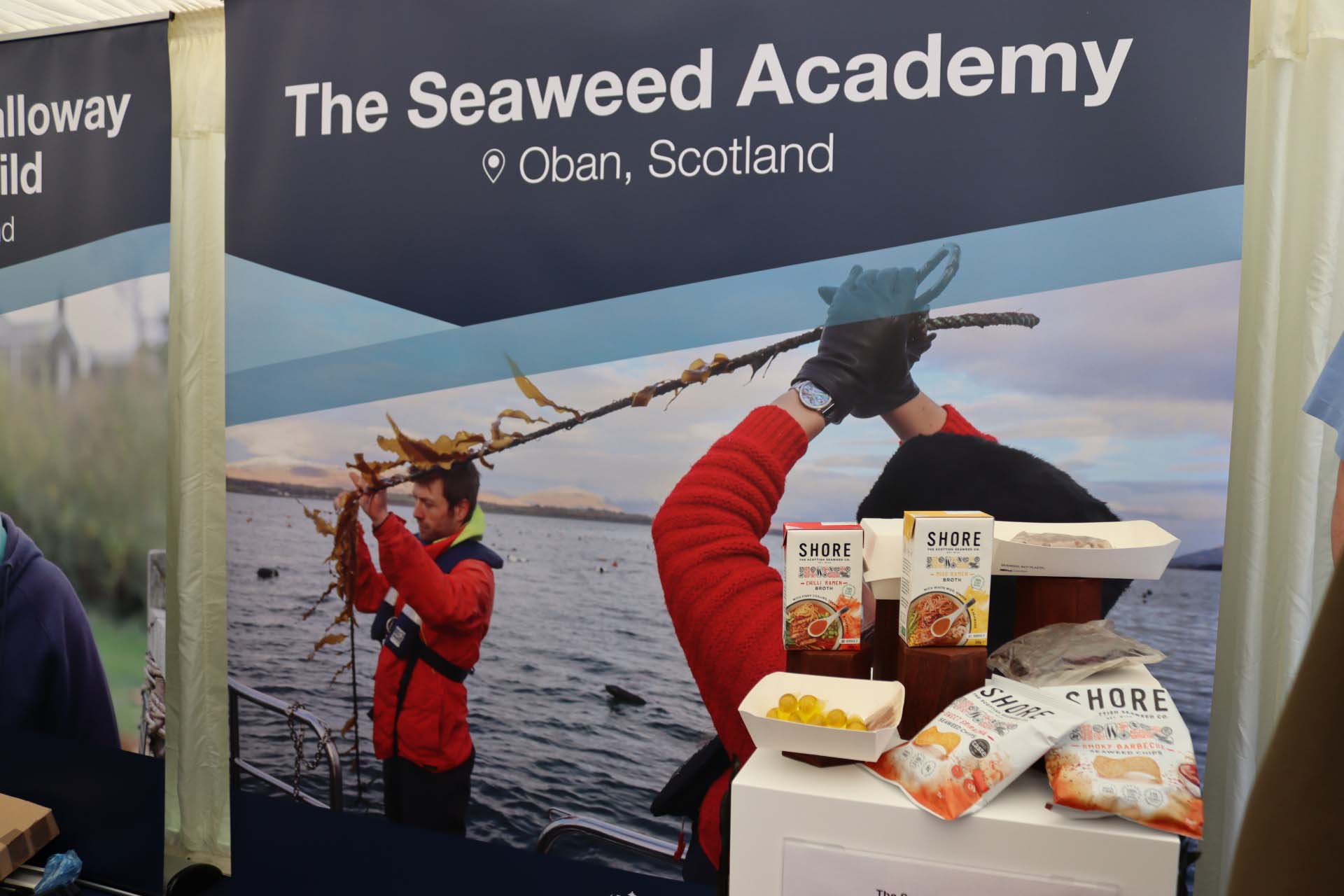 The future applications of seaweed were a hot topic of discussion at this year's Royal Highland Show, thanks to the presence of the SAMS Seaweed Academy.
The Royal Highland Show, based at Ingliston, Edinburgh, is Scotland's biggest outdoor event, attracting around 200,000 people over four days in late June.
SAMS Enterprise, the commercial arm of SAMS, was invited to showcase its Seaweed Academy project in the UK Government pavilion alongside other organisations in receipt of UK Government funding.
Launched in April 2022 with a £400,000 grant from the UK Government's Community Renewal Fund, the Seaweed Academy offers training courses and advice on how to start and develop a seaweed farm. The courses cover topics as diverse as planning, species selection and life cycles.
Head of SAMS Enterprise Mike Spain and seaweed scientist Dr Adrian Macleod fronted a stand that included information on the courses offered by the Seaweed Academy and a display of seaweed products kindly supplied by Shore Foods and NotPla, demonstrating the versatility of seaweed.
Already extensively used in cosmetics, food ingredients and pharmaceuticals, newer seaweed innovations include food packaging and snacks.
Mr Spain said: "We were grateful for the opportunity to attend the Royal Highland Show to demonstrate how UK Government investment is helping to kick-start a seaweed farming industry in the UK.
"Seaweed farming has a very low carbon footprint and crops require only what they can get from the natural environment. At the same time, there is huge untapped potential in seaweed-derived products.
"While seaweed has the potential to create new businesses and income streams, we at SAMS are constantly working on research and development to ensure the new industry will be a sustainable one. The Seaweed Academy is backed by world-leading research at SAMS, helping us keep our course content up to date."
Visitors to the Seaweed Academy stand included: Secretary of State for Scotland Alister Jack MP, Parliamentary Under-Secretary of State for Scotland John Lamont MP and David Duguid MP. The event also served as an opportunity for SAMS, a partner of UHI, to build on research links with SRUC and the James Hutton Institute.
The Royal Highland Show contributed almost £39.5million to the economy in 2022.