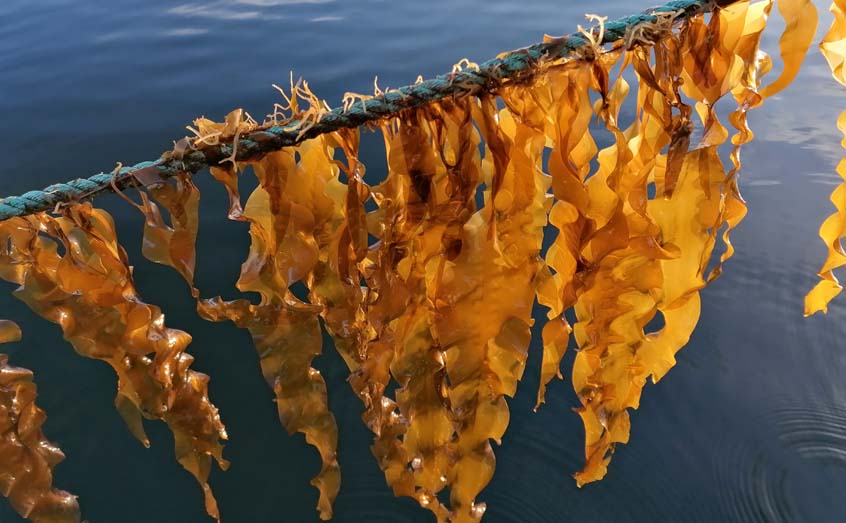 SAMS is supporting the emerging blue economy in the UK and Europe by announcing four new research vacancies related to seaweed cultivation and blue carbon.
Within the UK, there has been an increase in the number of seaweed farms in operation and the number of applications for licences continue to rise.
Globally, the seaweed farming industry has been growing exponentially and is estimated to be worth nearly $20billion per annum. Almost all of this activity is in Asia but there is huge growth potential in Europe, with a growing demand for seaweed from gourmet restaurants to livestock feeds.
Already used extensively in food ingredients, agriculture, cosmetics and pharmaceuticals, seaweed farming has a low carbon footprint, using no fresh water or fertiliser and with minimal land-based infrastructure.
SAMS has been at the forefront of the UK's research effort in seaweed cultivation and in April 2022 launched the Seaweed Academy, using SAMS expertise to offer training courses in all aspects of seaweed cultivation.
In order to keep pace with industry growth, SAMS is bolstering its research in macroalgae (seaweed) research by recruiting: a lecturer/senior lecturer in macroalgal research, a senior PDRA in seaweed biotechnology and a project manager to lead the development of the Seaweed Academy. SAMS will further support the blue growth agenda by also recruiting a lecturer/senior lecturer in blue carbon/coastal restoration.
Prof Michele Stanley, SAMS Associate Director for Science, Enterprise and Innovation, said: "Advertising multiple vacancies in this area of research shows that SAMS recognises the importance of growing the seaweed sector and putting science at the forefront when discussing blue carbon. To help support that, we need both the knowledge base and the interface between research and industry.
"Within the UK there has been an increasing number of seaweed farms and there are now community-led processing projects like Eco Cascade. The industry is attracting investment. Alongside this growth and investment, we must have the research that will inform our direction of travel."
SAMS was established in 1884 and can trace its algae research back to the early years. The institute began to intensify research in seaweed cultivation in 2004 with its first seaweed cultivation trails off the west coast of Scotland.
The institute now has its own farm site and hosts the Seaweed Nursery, which can provide seeded line ready to be deployed onto commercial farms.
However, there remain a number of challenges facing the fledgling industry.
Prof Stanley said: "It is an exciting time for the seaweed cultivation industry, but there are very obvious challenges we must consider, not least in pre-processing. How do you make the most of the biomass grown?
"There are also questions around which species you can grow and whether that can be done on land in tanks, or only at sea. There are different kinds of seaweed and depending on whether they are brown, green or red, they will have different applications. It also means they have to be cultivated in different ways. Additionally, there are major interests in blue carbon and coastal restoration. This is area of scientific research we already undertake but again wish to strengthen further."
Meanwhile, SAMS is also seeking a lecturer/senior lecturer in marine social science. This is an important area of research for SAMS and underpins work within our research areas linked to both blue growth and coastal dynamics. In supporting its ocean observations work, SAMS is also seeking two instrumentation and robotics support scientists.
For the full list of vacancies, see https://www.sams.ac.uk/vacancies/