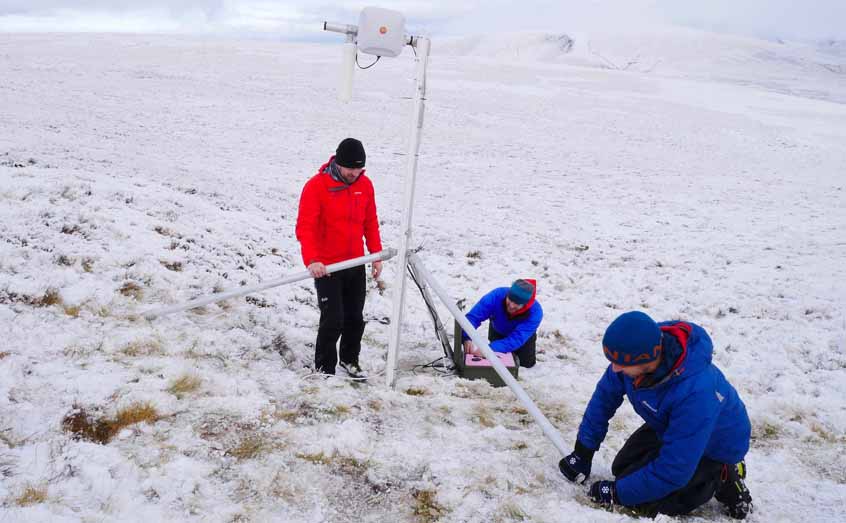 Technology designed by the Oban-based Scottish Association for Marine Science (SAMS) that could provide early warning for floods has been deployed in the Scottish Highlands.
The device, known as SIMBA (Sea Ice Mass Balance Array), was originally developed to analyse sea-ice in the Arctic regions and is now used by researchers around the world but SAMS is exploring the potential of the technology to be used closer to home.
SAMS has been working with a multi-agency co-operation comprising of the Scottish Avalanche Information Service (SAIS), the Scottish Environmental Protection Agency (SEPA) and the University of Dundee, to test the application of this technology in monitoring of snowpacks forming on the Cairngorm mountains.
The equipment remotely gathers data in snow accumulation zones at around 1,000m altitude, primarily measuring ground, snow and air temperature profiles, snow accumulation and melt rates and total depth. It can give readings 24 hours a day during storms and dangerous snowpack conditions when these sites are often not accessible safely by avalanche forecasters.
The deployment this winter in Glen Feshie will test the ability of the equipment to detect and monitor snow melt, providing data that can help scientists understand the contribution of snow melt in floods and ultimately enhance flood prediction models in Scotland.
SAMS Head of Enterprise David Guthrie said: "In a time of rapid change in our climate, it has become increasingly important to gather accurate data and create predictive models that give agencies the earliest forecasts possible.
"Thanks to this collaboration, we have an opportunity to test SIMBA in a challenging environment such as the Cairngorms, as we explore its potential for assessing flood and avalanche risk. We are also grateful to the contribution of WildLand Limited Glen Feshie Estate for allowing site access and logistical support, and Northern Engineering and Welding Company (NEWCO) Ltd for the supply of equipment and expertise."
Dr Andrew Black, a hydrologist from the University of Dundee who is assisting the trial, said: "Snow melt is notoriously difficult to predict accurately because of the variability of snow depths and the difficulty in collecting relevant data. This new system from SAMS presents an exciting new opportunity to monitor snow depth and water content in more detail and will present excellent opportunities to improve forecasting methods in the future.
"Studying snow melt in the Feshie catchment complements our existing monitoring of rainfall and river flows in that area. Snow which melts on the mountains of this area of the Cairngorms will take at least three hours to reach the River Feshie; this project shows the potential of improved monitoring to inform river flow predictions."
A spokesperson for SEPA said: "With a firm focus on climate change, SEPA is helping Scotland prepare more powerfully for the effects of future increased flooding. Using the latest technology and data, including on snow melt, has real potential to benefit our forecasting and warning services that support communities and local businesses.
"We're delighted to be working with Scottish Association for Marine Science (SAMS) and the Scottish Avalanche Information Service (SAIS) on this innovative trial."
Trials are already underway on Cairngorm itself, with the assistance of Cairngorm Mountain Resort and the RSPB, to use SIMBA technology to complement other traditional snow analysis techniques and observations conducted by SAIS, to assess avalanche risk.
SAIS Coordinator Mark Diggins said: "The objective is to provide additional avalanche start zone information to SAIS in order to enhance public avalanche reports.
"This will also benefit the SAIS in their ability to remotely access valuable snow stability information, especially during storm cycles and when unable to carry out field observations in high locations due to serious hazard."
The testing will continue throughout the winter and extend to several other Scottish mountain areas.