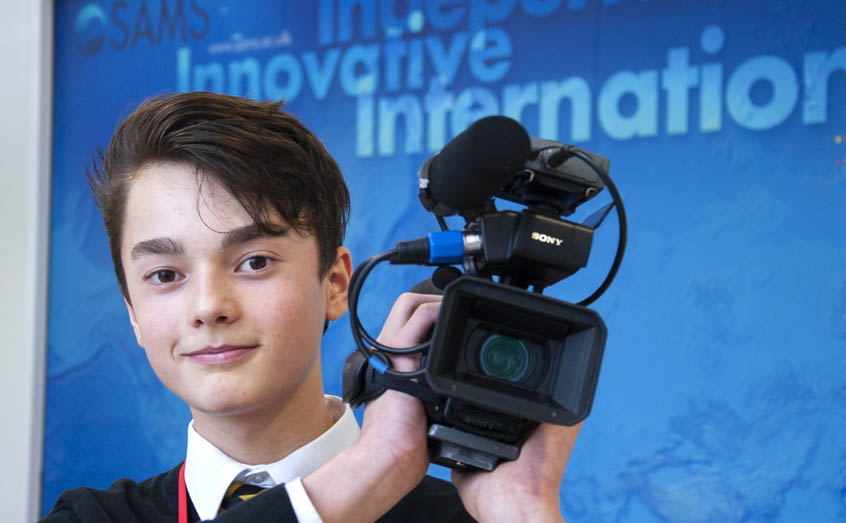 Can you explain your science in sixty seconds?
That was the challenge posed by one teenager from Oban who interviewed researchers at SAMS as part of his Duke of Edinburgh film project.
Alik Aleynik's three one-minute films were 'premiered' at SAMS on Thursday, March 21, with staff and students from the institute joined by Aimee McIntosh, who is Alik's English teacher at Oban High School, as well as the school's Duke of Edinburgh Award co-ordinator.
SAMS filmmaker Andy Crabb mentored Alik throughout the project and was delighted with the result, which will be used in SAMS science communication activities.
Andy said: "I loved the concept of taking really niche and often complex science and making it accessible to everyone in these one-minute videos.
"I think the scientists enjoyed the challenge that Alik laid down and you could see how working against the clock motivated them to explain what their science means in the big scheme of things.
"It's been a great project to work on and I hope it encourages Alik to do more filmmaking. He did a great job."
The three scientists who took up the challenge were physical oceanographer Dr Marie Porter, deep sea specialist Dr Natalia Serpetti and seaweed ecologist Dr Adrian MacLeod. Their films can be viewed on our YouTube channel.
Alik, whose father, Dr Dmitry Aleynik, is a marine modeller at SAMS, says he is keen to study science - but will keeping making films as a hobby.
The 15 year old thanked the scientists, or "victims", for agreeing to be the first to try the challenging sixty-second format.