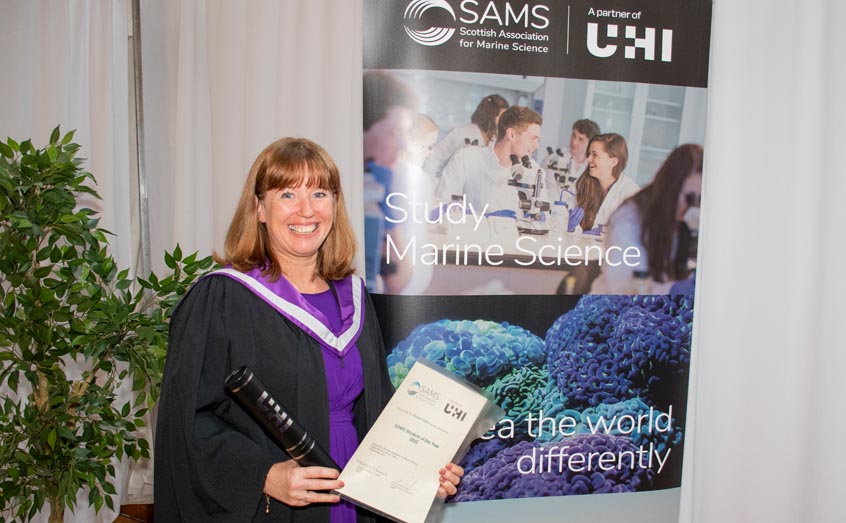 An accountant who has graduated from Oban's Scottish Association for Marine Science (SAMS) had to contend with Covid restrictions and leaving a successful career in order to realise her long-held dream of studying marine science.
Liz Moller, who graduated with a first class BSc Hons Marine Science with Oceanography and Robotics, was named student of the year at a graduation ceremony held by SAMS - a partner of the University of the Highlands and Islands (UHI) - in the Argyllshire Gathering Halls, Oban on Friday.
Lecturers praised her commitment to studying and her outstanding academic performance while also home-schooling her children and supporting fellow students during a difficult two years of lockdown.
She was one of 26 graduates receiving their degree at the event – the first in-person SAMS graduation ceremony in three years - which also saw a record 15 PhDs awarded.
Liz, from Clachan in Kintyre, had worked in accountancy for more than 20 years before her 'now or never' decision to apply for the marine science degree course.
The 47-year-old mother of two said: "Studying marine science has been a dream of mine since I was a teenager. I discovered it while doing my accountancy degree. Then I established a career and had a family and time goes by. I got to the stage in life where I thought 'it's now, or never'. I felt it was time to either follow my dream, or admit it wouldn't happen.
"I took the first step by going to the open day, then I just had to take that leap. There were times when I would be sitting in class and on the verge of happy tears because I was so excited to be there.
"During lockdown I had similar challenges to what many people faced, but I was a student while trying to be mum, teacher, dinner lady, IT specialist and support the family run business where my husband works. We would have days where there were three Zoom calls going on in the house at the same time!
"I could not have done it without my support network: my family and friends, the education staff and lecturers and my classmates. SAMS was just perfect for me. It's based in Argyll, it's historic and the course really attracted me. It turns out you can teach an old dog new tricks - if you have the right teachers!"
Liz now goes forward to the overall UHI Student of the Year competition.
Among the other prizewinners were Jessica Giannotti, a SAMS graduate, who this year won the UHI Alumni Disrupter for Good Award. Jessica highlights issues of marine conservation and sustainability through her fashion and textiles business, Crùbag.
The newly-awarded Graham Shimmield Prize for Biogeochemistry was won by PhD student Judith Braun. The prize is presented in memory of the late former Director of SAMS who oversaw a huge expansion in the institute between 1995 and 2008.
Awards also went to Christian Armstrong (Johanna Fehling Memorial Prize), Konstantina Gleni (ACES+ Prize for Best Dissertation), Ramona Petrig (SAMS Board Award for Academic Excellence), Alicia McDowall (SAMS Award for Overall Achievement) and Iona Smith (Tim Boyd Prize for Oceanography).
Tavish Scott, chief executive of Salmon Scotland gave the keynote address and Prof Neil Simco, UHI Interim Deputy Principal (Tertiary and Research), was presiding officer.
SAMS Director Prof Nicholas Owens said: "I was delighted to be able to congratulate our graduates and postgraduates face-to-face, after the restrictions of lockdown made previous in-person events impossible.
"I was delighted to see a record number of PhD students too, which highlights the increasing strength of UHI as a research university."
Have you thought about studying with us? SAMS is hosting an open day on October 28. Find out more here: Open Day — The Scottish Association for Marine Science (sams.ac.uk)