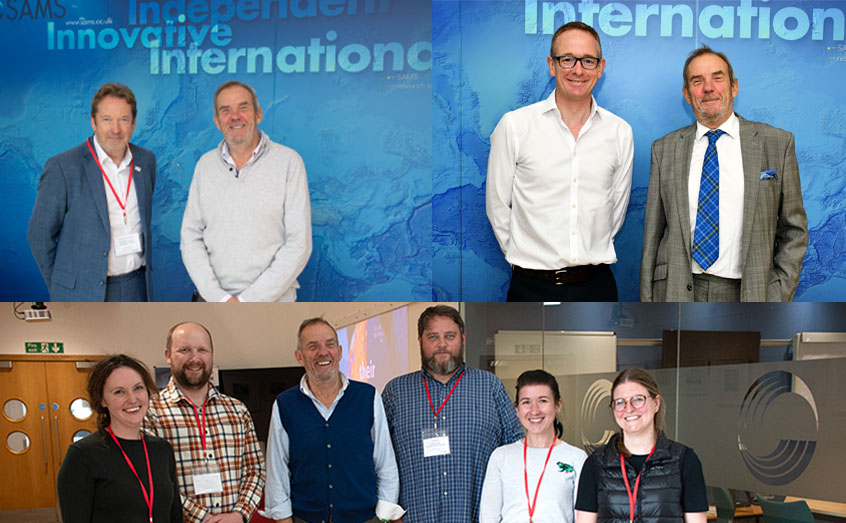 SAMS hosted a number of visitors in early August, from politicians to researchers and civil servants.
Among them was John Lamont MP, Parliamentary Under-Secretary for Scotland, who was keen to follow up on the UK Government-funded Seaweed Academy, which has now been operating for a year. Mr Lamont expressed a desire to work more closely with SAMS to help us increase our profile in Westminster.
The institute also offered a warm welcome to Prof Colin Campbell, chief executive of the James Hutton Institute. Prof Campbell had visited SAMS more than a decade ago and in a different role.
The James Hutton Institute has recently signed a memorandum of understanding with UHI and we look forward to working more closely on developing blue-green economy research and enterprise activities.
We were also delighted to welcome former SAMS scientist Dr Sally Rouse, who led a Scottish Government delegation on a visit to the lab. As well as meeting Prof Owens, the group was also able to have a discussion with fisheries ecologist Dr Clive Fox.
Prof Owens said: "I was delighted to host these visits, which sought to strengthen crucial stakeholder relations. While we have an envious coastal location, it does mean people often have to make a little extra effort to get here. I am grateful to our recent guests for making the journey to Oban.
"I am always reminded when we have visitors of what a great place SAMS is and how engaged and engaging all our people are. No-one leaves SAMS without knowing what a fabulous place we have here."