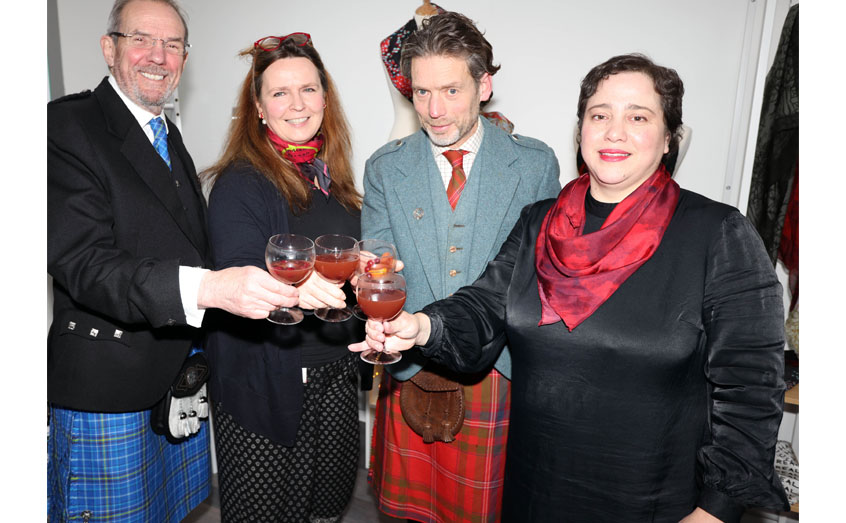 The very ancient and the most modern of local tartans were on display at the Sustainable Ocean Fashion event, part of Oban Winter Festival.
The event, held in the studio of fashion and textiles company, Crùbag, based the Scottish Association for Marine Science (SAMS), saw the launch of the SAMS Ocean Explorer Tartan, a newly registered tartan to celebrate the beauty of our seas and the historical and ongoing discoveries made by marine scientists in Scotland.
Guest Robin MacDougall, Younger of Dunollie wore his clan kilt alongside SAMS Director Prof Nicholas Owens, who has the first kilt made from the new SAMS Ocean Explorer tartan.
Mr MacDougall represents one of Scotland's most ancient clans, with its seat at Dunollie Castle, but welcomed a new tartan from the local area. He said: "The SAMS tartan is dominated by blue, which is obviously representative of the sea and the tradition of marine research here, but of course the sea has a strong association with Oban's heritage too."
Prof Owens told guests how SAMS' own heritage could be traced back to the Challenger Expedition, the first oceanographic cruise of its type that set sail 150 years ago. On his return from that voyage, scientist Sir John Murray established the precursor to SAMS in Edinburgh and became the institute's first Director.
Prof Owens, the 10th Director of SAMS, told guests: "That history lesson is an introduction to another part of SAMS' history, the production of our own tartan. I am delighted that we have a tartan to help to communicate our identity; each colour has been very carefully and deliberately chosen to represent the range of things we do here."
The event also marked the unveiling of Crùbag's new Climate Change Collection, a range of clothing and textiles designed in collaboration with research scientists to highlight the ongoing climate crisis.
Crùbag founder Jessica Giannotti is a graduate of the BSc Marine Science degree course at SAMS, a pertner of UHI. She designed the SAMS Ocean Explorer tartan in collaboration with Dr Anuschka Miller, head of communications at SAMS.
The tartan's dominant medium blue represents the global ocean, while the light blue stands for clean water and air. The white symbolises Scotland's connection with, and SAMS' research expertise in, the Arctic while the yellow represents biodiversity and oceanographic technologies. The purple recognises SAMS' deep commitment to the community, to education and to the founding partnership with UHI, while the bright green stands for SAMS' mission for a sustainable ocean future where human society is in harmony with nature.
As well as wool for kilts and blankets, Crùbag is selling other SAMS Ocean Explorer tartan products including ties, scarves and even snoods made from recycled plastic. Ms Giannotti said: "Our focus with this tartan is on ocean science and sustainability, uniting everyone in the SAMS Clan to work towards protecting our amazing natural environment.
"I think textiles can be an incredible way to communicate the beauty of the ocean."