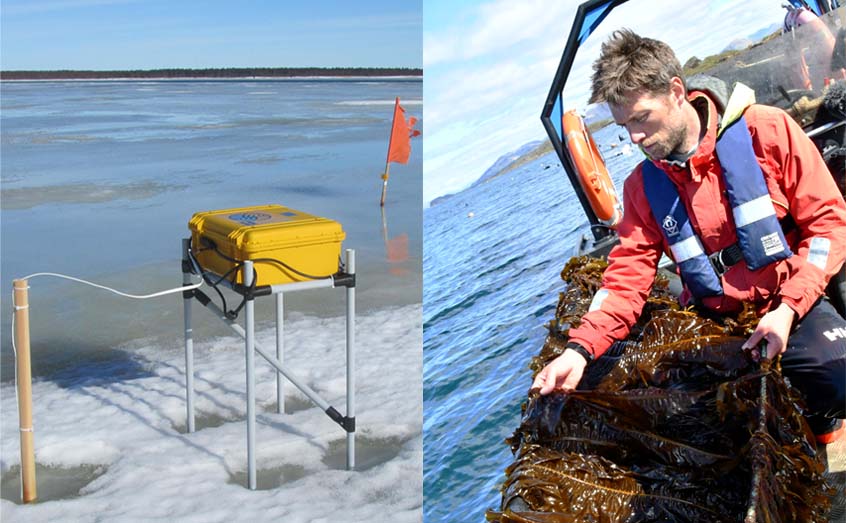 SAMS Enterprise, the commercial arm of SAMS, has twice been named a finalist in this year's VIBES Awards.
The marine environmental consultancy has been recognised for its Seaweed Academy, a training facility for the emerging seaweed farming industry, and for its SIMBA (Sea Ice Mass Balance Apparatus) unit, which measures changes in sea ice, river ice and snow in extreme and inaccessible locations.
The VIBES - Scottish Environment Business Awards recognise organisations that have demonstrated significant business benefits from good environmental practice. A record number of entrants for the 2022 awards have been narrowed down to 45 finalists – from across a range of industries including food and drink, construction and life sciences.
SAMS Enterprise was a winner in 2021 for its Seaweed Nursery development.
Head of SAMS Enterprise Mike Spain said: "To be shortlisted as a finalist in the VIBES Award is a great achievement, but to have two nominations is something we're extremely proud of and a testament to our hard-working staff in SAMS Enterprise and across the wider SAMS Group.
"The Seaweed Academy launch this year has been hugely successful and is a key element in the growth of this fledgling industry in Scotland - and throughout Europe.
"By addressing the skills requirements for the seaweed industry, we are enabling further growth of the sector and strengthening the UK's position as a global innovation leader in this field.
"The SIMBA unit has been designed, developed and built at SAMS and has been used as a research tool for more than a decade, primarily to accurately measure sea ice thickness and melt rate.
"Building on this success, SAMS Enterprise has in recent years trialled the equipment in new applications such as avalanche forecasting."
The VIBES - Scottish Environment Business Awards are a partnership between the Scottish Environment Protection Agency (SEPA), The Scottish Government, Energy Saving Trust, Highland & Islands Enterprise, Scottish Enterprise, South of Scotland Enterprise, Scottish Water, Zero Waste Scotland and NatureScot.

Gillian Bruce, chair of VIBES - Scottish Environment Business Awards, said: "Every year, the VIBES Awards highlight the progress made across Scotland to help move towards net zero. We see more and more firms and organisations who recognise environmental innovation and best practice can also bring economic benefits and it is always inspiring to hear entrants tell us about their work.

"Scotland is a leader in climate change action and every business can play a part in leading Scotland to Net Zero. We hope the finalists will encourage others to improve their environmental practices and help to safeguard Scotland for future generations."

Environment Minister, Mairi McAllan, said: "Businesses have a huge role to play in protecting our environment and tackling the twin crises of climate change and biodiversity loss and I would like to congratulate all those that have been shortlisted.

"The VIBES awards are a great opportunity to recognise businesses that are showing leadership in making their operations more sustainable as part of Scotland's journey to net zero."
In the next stage, judges will interview each finalist or take part in a site visit, where finalists will be able to demonstrate their work. This will be fed back to the head judging panel, who will select the 2022 winners.