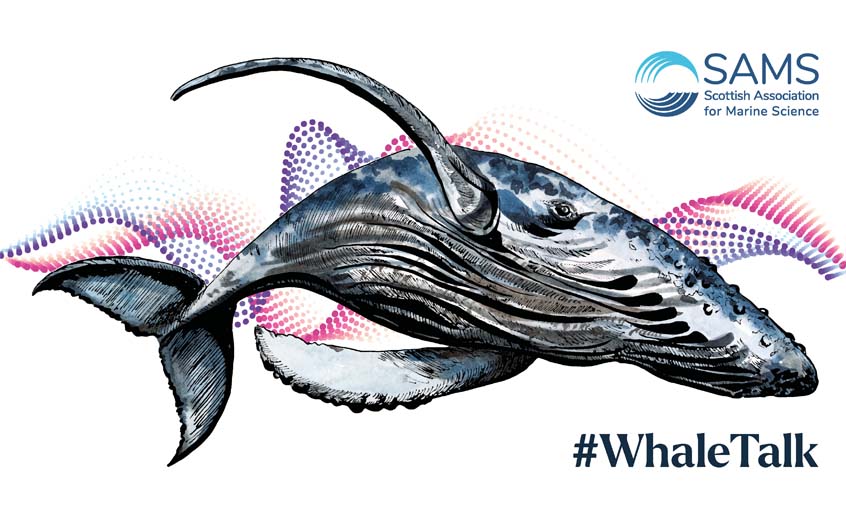 A campaign by the Scottish Association for Marine Science (SAMS) has been launched today [Monday] to highlight the importance of monitoring marine mammals in our ocean.
The #WhaleTalk campaign launch coincides with the beginning of World Ocean Week and aims to promote SAMS' expertise in passive acoustic monitoring (PAM), a way of recording underwater sounds to better understand marine mammal movements, population size and behaviours.
Of all the creatures in the marine environment, whales and dolphins are among the most recognisable and best-known. However, we rarely get a glimpse into their underwater world, which is changing rapidly due to human interference and climate change.
Prof Ben Wilson, who heads up the marine mammals research group at SAMS, said: "We can't easily visually observe marine mammals in their deep underwater habitat, but we can listen.
"Underwater acoustic technology helps us to identify species and their location. The sounds also reveal patterns of behaviour and migrations. As humans develop technology to further exploit the ocean's natural resources, can we learn more about the behaviours of these creatures by listening more often?"
Improved monitoring of marine mammals will be crucial as scientists seek to provide evidence for a number of policy and conservation decisions, including Marine Protected Area designation and management, marine renewable energy developments, fishing, aquaculture and shipping.
It is also important for the conservation of marine mammals to understand how climate change may be affecting their migrations and feeding opportunities.
As part of #WhaleTalk, SAMS will organise a series of events throughout the remainder of 2023 and is this week launching its new Ocean Explorer podcast with a first episode on underwater sounds.
On World Ocean Day (8th June) SAMS will deploy an underwater recording device to listen for whales and dolphins off the Argyll coast. This will be part of a global experiment called World Oceans Passive Acoustic Monitoring (WOPAM), which has called on marine mammal researchers from across the globe to simultaneously collect acoustic data on World Ocean Day.
To keep up to date with our #WhaleTalk events, keep an eye on the hashtag across social media and sign up for our Ocean Explorer Update e-newsletter.