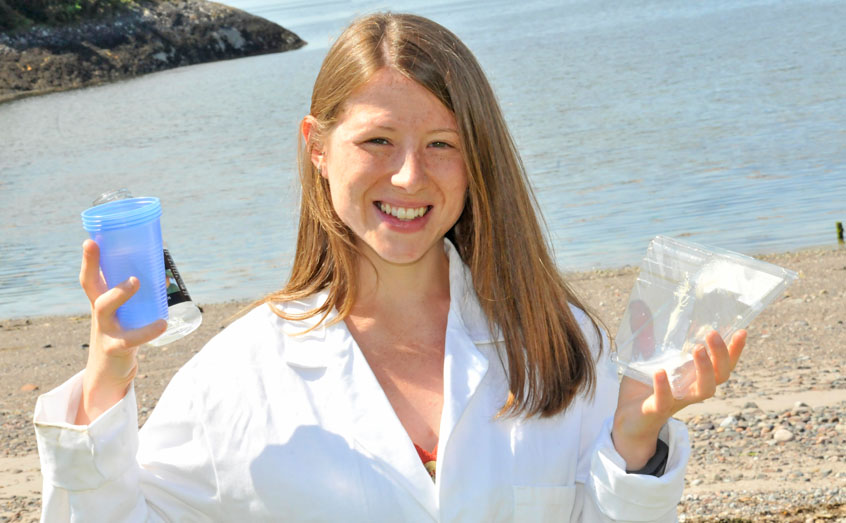 With just a box and a lab coat, marine scientist Winnie Courtene-Jones has been challenged to educate members of the public about marine microplastics during tomorrow's (Saturday) Soapbox Science event.
Winnie, a PhD student at SAMS UHI, studies marine microplastics in the deep sea. She's no stranger to giving presentations to a captive audience, but tomorrow's event will very much be outside of her comfort zone - explaining her research to passers-by at The Mound, Edinburgh without the aid of a speaker or Powerpoint.
"I am really looking forward to it," said Winnie, a University of the Highlands and Islands student. "I had considered applying last year but missed the deadline because I was at sea. I've been wanting to do this ever since, so I am delighted to have the chance.
"I want to get across the message that plastic is not just a problem on the sea surface, or the beach. We see it there and think that's the end of the story but that's not the case, given the high levels of plastic in the deepest ocean."
Winnie will appear on her soapbox between noon and 1pm.
Soapbox Science is in its eighth year and hold events all around the country. The main aim of the initiative is to bring cutting-edge science to the public, in an accessible and fun way.
The 2014 Public Attitudes to Science Survey conducted by Ipsos Mori noted that 72% of those questioned agreed that 'it is important to know about science in my daily life', compared to 57% in 1988. It also noted that 68% of respondents agreed that they 'would like scientists to spend more time discussing the social and ethical implications of their work with the general public'.
To find out more about Soapbox Science, visit http://soapboxscience.org/2018-2/