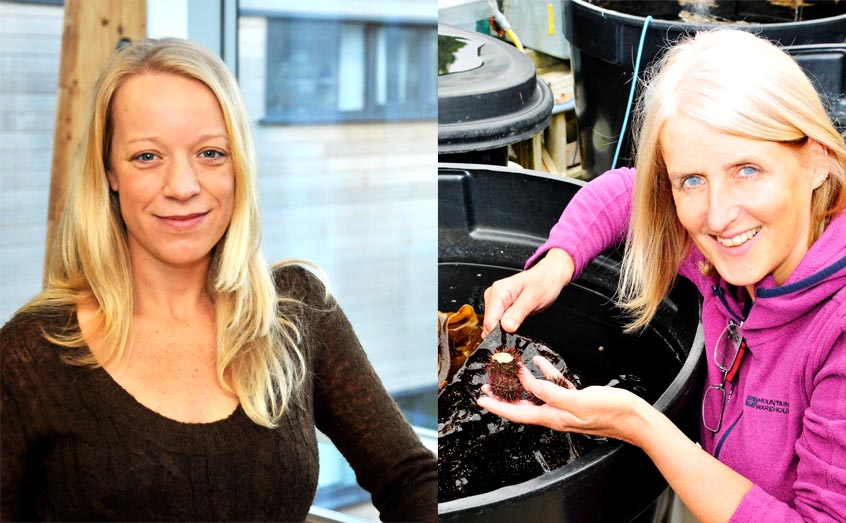 Two SAMS scientists have been recognised at the Women in Scottish Aquaculture (WiSA) Awards for their contributions to aquaculture research.
Dr Maeve Kelly, who retired from SAMS in 2018, was given the Lifetime Achievement Award and Dr Georgina Robinson was named Innovation Research Champion at the event in Edinburgh.
Held on International Women's Day (March 8) the event celebrated the successes of women working in aquaculture research and industry, including awards for mentorship, rising star and role model.
Dr Kelly, who spent 27 years at SAMS, specialised in commercially relevant invertebrates and seaweeds and laid the foundations for the breadth of seaweed research that goes on at SAMS today.
She said: "It was a complete surprise to be recognised in this way but I am extremely honoured.
"When I joined SAMS - the Scottish Marine Biological Association (SMBA) as it was known then – there were very few women in science roles in the lab. However, there have been such changes over the years and there are more women in senior science roles. These women have an international scientific reputation and are strong, positive role models for anyone wishing to pursue a career in science.
"Similarly, when I started aquaculture research in the mid-1990s I met few women at all, particularly in practical, hands-on roles in the industry, but that gradually changed too. Let's hope the number of women in senior aquaculture roles is only set to rise."
Dr Robinson is UK Research and Innovation Future Leaders Fellow and was recognised for her work in developing a system that will recycle fish farm waste. Waste from the farms is fed to sea cucumbers and marine worms – so-called deposit feeders – that can then be farmed as a high-protein food source for humans and livestock and may even be used to generate electricity.
A single mother, Dr Robinson is principal investigator on multiple research and development projects, working with industry partners, supervises three students at SAMS and runs three private consultancies in Panama and Thailand on a self-employed basis.
Having worked for SAMS since 2017, Dr Robinson was previously based in Mauritius and only permanently moved to Scotland a year ago.
She said: "I feel really proud to have won the innovation award because that is what I love best about my job. I want to be an innovator and a leader in science, inspiring others to think outside the box, where no idea is a bad idea and immerse themselves in amazing science.
"I am involved in many projects but I thrive on that variety. I enjoy things like consultancy work, which is all about innovating and troubleshooting. It keeps my brain active and gives me another route to set out my ideas."